For Serena Williams, it's all love—if not in her legendary tennis game, then in her growing style empire, which expanded today to include Serena Williams Jewelry. The luxury-level line of gold and silver jewelry features ethically mined and conflict-free diamonds, and some heavy inspiration by the phenom herself, including her favorite motif: hearts.
"I am obsessed with hearts," she tells Vogue. "If you go back and look at photos, pretty much all my matches—99% of the time—you see me wearing some sort of heart necklace."

In fact, longtime Serena fans know she's never felt weighed down by accessorizing her famous tennis ensembles. "I've always worn crazy jewelry on the court—massive rings, diamonds, necklaces. I mean, most people like jewelry, but I love jewelry," she says.
As Vogue reports, Williams' new line, which launched with 70 pieces ranging in price from $299 to $10,000, spreads the love. The designs include the star's beloved hearts, "along with rings, bracelets, and necklaces, a diamond-encrusted dog tag, and diamond earrings that spell out SEXY as well as LOVE, the words broken in two." All are meant to be mixed, matched and layered, according to Williams, who will host a launch party tonight on IGTV at 7 pm, ET.
G/O Media may get a commission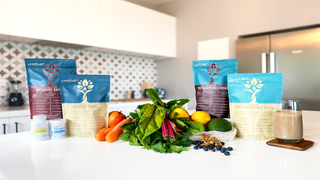 "You don't have to change pieces, but you can add pieces," she says. "[S]omething more bold, or more strong, or even something with a word on it—even if it's a more delicate piece. It's just about expressing yourself."
And while the multifaceted mogul says she's "not a jewelry designer," she was as hands-on as ever in the creation of her latest venture. But as she tells Vogue, big sister Venus may actually have the best eye for jewelry in the family. "She definitely doesn't miss," says Williams. "Anything she gives me, I love."
For those not currently in the market for fine jewels, Williams has more in the works: continuing to evolve her relationship with sponsor Nike, she recently launched Serena Design Crew, a seven-month apprenticeship which kicked off with a design challenge at Nike's Beaverton, Colo. headquarters. Forty New York City-area applicants were chosen from local design schools and universities, as well as creative organizations like our friends at Harlem's Fashion Row. Ten finalists from the challenge will not only win the opportunity to apprentice with Nike's designers, but will help design a 10-piece court-ready capsule collection alongside Williams herself.
The objective? To identify new, diverse design talents, and to encourage more diversity in Nike's applicant pool.
"I wanted to introduce a special collection," Williams told Vogue, "and with my role in Nike and what I do just in general, I always want to make sure that we are able to increase diversity and inclusiveness. I thought it was a great way to partner with them."

Nike's chief design officer John Hoke agrees. "Diversity is our advantage," he says. "So we will continue to build the most diverse creative network we can possibly find."
"We want these individuals to possess a creative mindset: not a diploma or a desk title, but a mindset," he later adds. "Nike is powered by design and powered by creativity. Being the chief design officer of this company, a big part of my job is bringing energy and fuel into this future generation of creatives...I get so much out of if because I get to rub elbows with these super-passionate creative minds that are feverishly pursuing their dreams. That's intoxicating for us to be a part of."
According to Vogue, the energy and fuel Nike is bringing to the table are potentially game-changing for aspiring designers:
Among the resources available to the apprentices is Nike's Blue Ribbon Studio, a 40,000-square-foot workshop for learning and developing new skills. "We have basically best-in-breed professors teaching washing and dyeing, graphic design, three-dimensional printing, sculpture, printmaking, sign painting, flower arrangements—it's just this creative oasis inside the company," Hoke says, noting that the program has just expanded to a second building where things like cinematography and body mapping will be taught.
We won't get to see or shop the results of the inaugural Serena Design Crew until Spring 2021, but in the interim, Williams had some advice for her newest crop of designers: "Be very creative, think outside the box, and don't be afraid to just do something extremely innovative, because that's what design is all about," she told Vogue. "Dare to be different, dare to dream big, dare to be bold."