Since January, excitement has been building around this historic presidential campaign. But now our nation faces a crucial test as Election Day approaches—some states now have strict identification requirements for voters, a move that could stymie the anticipated growth in political participation.
Whatever the motive for the tougher voter requirements, public officials, civic leaders, activists and media outlets must work to ensure that voters in their states understand the rules about what constitutes proper identification at the polls. It would be a serious blow to our democracy if droves of voters, perhaps excited for the first time about their participation and choices, are turned away at the polls. Given the low voter turnout rates we have witnessed over the past 30 years, our democracy cannot afford to disillusion people participating for the first time.
And given the current economic crisis, it is more important than ever that the American people participate in the voting process and feel vested in selecting the path for the nation's future. This is especially true for those who believe that change is needed in Washington and that our current public officials and representatives have not necessarily acted in the best interest of our families, our communities or our future.
Already, restrictive rules in many states that do not allow prisoners or even some formerly incarcerated individuals to vote have raised questions about the fairness of the electoral system. It is estimated that about 5.3 million prisoners or ex-prisoners won't be allowed to vote. This disenfranchisement strikes a contrast to other democracies around the world where ex-felons are generally encouraged to vote once they return to their communities. Why? In part because voting is commonly recognized as one of our most effective tools for positive civic engagement and responsibility.
In Texas, where the laws have been changed, there are over 800,000 formerly incarcerated individuals now eligible to vote, who are unregistered, because most don't realize that the laws have changed and that they are in fact eligible to participate in our democracy.
G/O Media may get a commission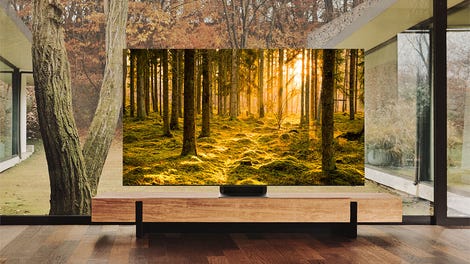 Up to 40% off
Samsung Smart TVs
The debate over extending voting rights to the formerly incarcerated who have paid their debt to society will, no doubt, continue well past this election. But there is something we can do now to prevent onerous ID requirements from discouraging voters in general. We need to actively educate the entire electorate.
In Arizona, for instance, proof of citizenship is now required for new voters. To satisfy this requirement, new voters must bring a driver license or a non-operating identification license and a copy of a birth certificate. New voters can also bring their U.S. passport. New Native-American voters will need their Bureau of Indian Affairs card, tribal treaty card or tribal enrollment number.
In Florida, meanwhile, a photo ID is required to vote. Acceptable identification includes a driver's license, U.S. passport, debit or credit card, military ID, student ID, retirement center ID, neighborhood association ID or public assistance ID. Similarly, photo IDs are required to vote in Michigan. What's clear overall is that just as more Americans appear poised to participate in the electoral process, there are more rules and regulations that they must follow.
It's the responsibility of our public servants, as well as dedicated activists, media outlets and other leaders, to inform the public of what they need to vote. Let's make sure everyone can participate. There are many organizations and campaigns underway that are actively working to educate voters, and it is up to each of us to actively support such initiatives.
One such example is New America Media (NAM), a collaboration of ethnic news outlets that is asking television stations to air a star-studded, 30-second PSA that I participated in with other entertainers who care dearly about our nation's future. NAM has also made available broadcast-quality voting TV and radio PSAs that can be aired on-air or from Web sites, as well as voting print ads for newspapers and magazines. Collaborations such as this, to educate and encourage the electorate, are essential as we approach this election.
I believe that, in large part, what makes our country the greatest in the world is that it is a participatory democracy. But it only works if we all participate. It is up to every one of us to work as diligently as we can to ensure that every American who is eligible to vote is allowed to have their vote counted, voice heard—and participate in this wonderful democracy.
Hill Harper currently stars in the hit television drama CSI: N.Y. and is the best-selling author of Letters To a Young Brother and Letters To a Young Sister.