It's never going to be a bad decision to rename something after renowned badass and "conductor" of the Underground Railroad Harriet Tubman. And following that school of thought, a section of a Baltimore park that was once the location of some loser statues has been renamed after the iconic abolitionist.
According to CBS Baltimore, the community held a special ceremony to honor the American hero and Maryland native on Saturday, which was the 105th anniversary of Tubman's death. The ceremony also marked the official rededication of a section of Wyman Park Dell that was once a notorious Confederate site. The portion of the park where the Confederate monument once stood will now officially be known as Harriet Tubman Grove.
Last fall, the Baltimore City Council voted to remove all Confederate monuments in the city, and Mayor Catherine Pugh immediately pushed forward the order. The decision to remove the monuments and the actual removal were all completed in about 24 hours.
Statues removed included those of the Robert E. Lee and Thomas J. "Stonewall" Jackson Monument, a joint memorial showing the Confederate generals on their horses that was erected in 1948; the Confederate Soldiers and Sailors Monument, which went up in 1903; and the Confederate Women's Monument, which was dedicated in 1917.
The joint statue of Jackson and Lee was located in Wyman Park Dell.
G/O Media may get a commission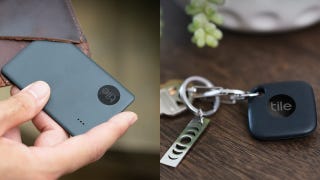 Up to 35% off
Tile Item Trackers
"We officially asked the mayor of the city of Baltimore to take down the two Confederate statues, and at the time we were asked what did we want in its place and without a doubt, everyone there said this needs to be Harriet Tubman," community activist Marvin "Doc" Cheatham told the news station.
"It helps bring the community values to important places and help to weave together the community. This place is really interesting. Since the statues were removed, it has become a gathering place," Baltimore Councilwoman Mary Pat Clarke added.
Of course, there are other Confederate sites across the city, but according to the news station, it is unclear if those will be rededicated as well. But here's to hoping they will, since there are more than enough actual American heroes to honor.
And speaking of which, I'm still waiting on my $20 Tubmans ...