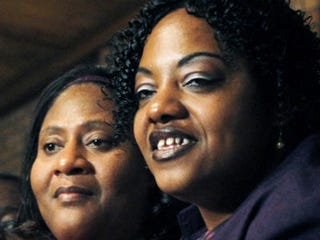 Of the more than 200 people outgoing Mississippi Gov. Haley Barbour pardoned, two stand out who weren't.
The Scott sisters blasted Barbour, saying that they were shocked they weren't pardoned after numerous convicted killers were. The two are hoping for better luck with the state's next governor.
Jamie and Gladys Scott became national topics of conversation last year when Barbour paroled them from prison under the condition that Gladys donate a kidney to Jamie. Her dialysis costs were costing the state a whopping $200,000 a year.
The sisters claim they never committed the armed robbery they were imprisoned 16 years for. "I have to report to the Mississippi Department of Corrections for the rest of my life for a crime I didn't commit. I guess if I had been a murderer, he would have pardoned me," Gladys told the Associated Press.
Victims' families slammed Barbour for the pardon decisions. Barbour responded by saying that most of the pardons were of people who were already out of prison. "The pardons were intended to allow them to find gainful employment or acquire professional licenses as well as hunt and vote. My decision about clemency was based upon the recommendation of the Parole Board in more than 90 percent of the cases. The 26 people released from custody due to clemency is just slightly more than one-tenth of 1 percent of those incarcerated."
Barbour went ahead and pardoned some 200 individuals, many of whom have committed some of the most heinous crimes you'll ever hear of. These two sisters are having trouble finding a job with a felony on their records, and a pardon would do wonders for them. When you consider that the two sisters have done everything in their power to acquiesce to Barbour, it makes you wonder why he wouldn't give them a pardon. Hopefully, new Alabama Gov. Phil Bryant will grant them the pardon necessary for their lives not to be marked forever by their past.
Read more at the Daily News.