Martin Luther King Jr.'s legacy is a fixture in American history, a name often spoken when discussing where we've come as a nation. However, King's influence extends far beyond our borders, across the Atlantic, all the way to Germany.
King's impact on Germany comes in the form of his speech on nonviolence that he delivered in Berlin in 1964—a speech that some credit with inspiring the tearing down of the Berlin Wall 25 years later. 
"It's not how long you speak or how long you stay, it's the impact. Dr. King was only in Berlin a day and a half, but the impact of Dr. King's speech is what they're giving the credit … Dr. King and the dismantling of the Berlin Wall, 25 years later," Southern Christian Leadership Conference President Charles Steele Jr. told The Root in an interview.
Steele was invited to Germany Sept. 11-15, along with SCLC Board Chairman Bernard LaFayette, King's right hand during the civil rights movement, to re-enact the famous 1964 speech.
However, plans changed once Steele landed in the German capital. "It was 50 years ago when Dr. King contributed to the tearing down of the wall, but it ain't over yet. We've got problems," he explained.
G/O Media may get a commission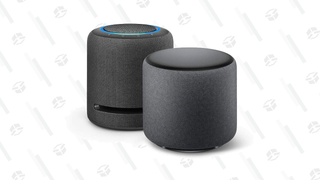 25% off - Prime Exclusive
Echo Studio + Echo Sub Bundle
So he asked the people in charge of the program if he could give his own speech about things that are going on today.
"That speech is powerful. I love it and I read it at least once or twice a week to motivate myself, but we need an [up-to-date] speech because there's still racism, not only in Russia, not only in Germany, not only on the continent of Europe, but I need to give a speech, not to re-enact the same speech, but to give a speech to talk about the impoverishment of people here in Germany and the world around us, as well, and talk about racism. My speech needed to be given for today and not from 50 years later, because we still have those same problems," Steele said.
"So that's when it hit me, and God through his spiritual divineness said, 'Steele, you got to give your speech now. We can't go back 50 years ago; we need to give a speech of today,' and that's what I did," the SCLC leader added.
He decided all this on the spur of the moment, after meeting with individuals and talking about the experiences that they face today, all of which seemingly should have been resolved.
"I spoke from my heart and my head. I had nothing written down because it was impromptu. I live it! I didn't have to have it written down," he said. "I saw the necessity of it when I hear people of color coming up to me, telling me about the problems that they're still having. So I said this is not a performance, this is not a rehearsal. I must give a real speech, related to the problems in society—[the] same problems in America, same problems in Germany and throughout the rest of the world."
It is this idea of "sameness" that propels Steele forward. To Steele, we can no longer think of the people or countries of the world as separate.
"We cannot look at ourselves as being in a selective container or box any longer," he explained. "We used to. We can no longer have a community we can just say, 'I'm in Atlanta, New York, West Side or whatever city.' The whole world is our community now; it has just become that globalized. What affects the world affects us in every block and every corner of our lives in every way.
"No longer can we consider ourselves isolated because of the ocean or any body of land. That's what my speech was about when I was in Berlin," Steele added. "Because our problems are not uniquely different; they are the same. It's all one world now; it's all one community."
And it is that unity and compassion and the nonviolent approach that King stood by unwaveringly that Steele hopes to continue to spread into the future with the SCLC.
"Our concern and our impact is to train people in the 'Kingian philosophy' and the principles and mindset of Dr. Martin Luther King Jr., the 'Kingian theory,'" he told The Root. "[We must] give people an alternative to violence, and that's to train them on nonviolence."
Breanna Edwards is a newswriter at The Root. Follow her on Twitter.