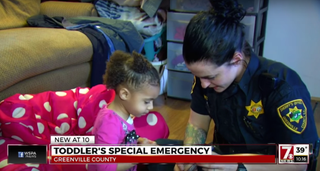 In a case of probably one of the cutest emergencies ever, a 2-year-old made a hang-up 911 call after not being able to put on her pants, the Associated Press reports. 
When Greenville County, S.C., Sheriff's Deputy Martha Lohnes went to check out the source of the call, she was surprised by the little girl, who raced to the door with only one leg in one foot of the pants.
A family member was home with the girl at the time and had no idea she had made the call. 
Lohnes patiently sat on the steps of the home and helped the struggling girl with her pants, for which she was rewarded with a big hug. 
The child's mother said that they have had conversations about how to call for help, leaving Lohnes rather impressed. 
"I thought it was awesome that at 2 years old she knew to call 911 at all," Lohnes, who called the moment the best part of her shift, said. 
Read more at the New York Post.