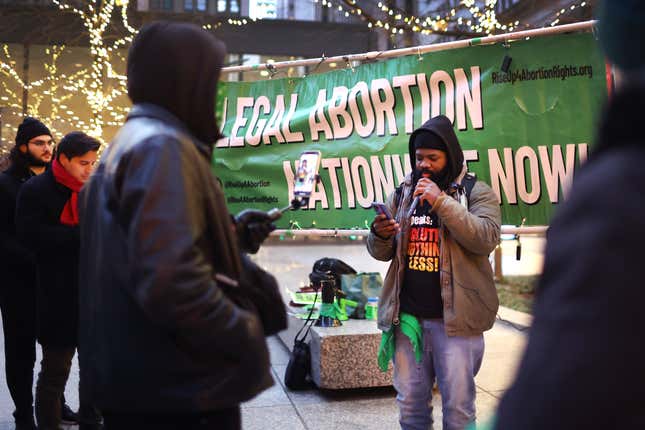 Finally, some good news on abortion access! On Thursday, South Carolina's Supreme Court permanently blocked the state's six-week abortion ban, arguing that it violated the state's constitution.
Your Tax Dollars Are Funding Anti-Abortion "Crisis Pregnancy Centers"
Folks may remember that the six-week ban (which bans abortion before many people are aware they're pregnant) went into effect shortly after the Supreme Court overturned Roe v. Wade. Abortion providers in the state challenged the law and won in a 3-2 decision.
Justice Hearn, who wrote the lead opinion, was forceful in his rejection of the ban. "Few decisions in life are more private than the decision whether to terminate a pregnancy," wrote Hearn.
Planned Parenthood South Atlantic, one of the providers who sued the state, celebrated the decision.
"The court's decision means that our patients can continue to come to us, their trusted health care providers, to access abortion and other essential health services in South Carolina," wrote their President and CEO, Jenny Black, in a statement. "This is a monumental victory in the movement to protect legal abortion in the South."
Obviously, not everyone is celebrating. South Carolina Republican Governor Henry McMaster had some choice words about the decision.
"With this opinion, the court has clearly exceeded its authority. The people have spoken through their elected representatives multiple times on this issue. I look forward to working with the General Assembly to correct this error," the Governor said, according to CNN.
The news has an outsized impact on Black South Carolinians, who make up roughly 27 percent of the state's population. According to the Kaiser Family Foundation, Black South Carolinians disproportionately utilize abortion care.
Abortion bans not only increase the rates of Black maternal mortality, but they also have an outsized impact on Black women's economic well-being. In states where abortion was legalized after Roe v. Wade, Black women's labor force participation, education levels, and earnings improved.
South Carolina also matters for its strategic location in the South near anti-abortion states like Georgia, North Carolina, and Tennessee.
Nancy Northup, President, and CEO of the Center for Reproductive Rights, which has been litigating anti-abortion laws across the country, says they'll continue to pursue similar wins in the South and Midwest.
"We know that lawmakers will double down on their relentless efforts to restrict essential health care," wrote Northup in a statement, "but we will continue to use every tool at our disposal to restore abortion access across the country once and for all."