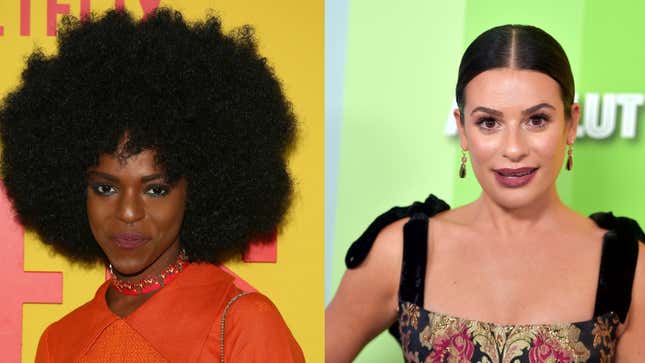 As we turn to the "celebrity awareness" chapter of this life book we call "Living In The Age Of Da Rona, Protests and More," the black community (especially on social media) is becoming more aware of the obtusely insensitive ways in which celebrities (and brands) have been attempting to show their support during the protests for George Floyd, Breonna Taylor, Tony McDade and more.
"Dip The Pen In Your Own Blood": How To Find Success As An Author | Securing the Bag: Part 2
Hopping on a trend to appease your ego to avoid real ongoing work when your normal practices contradict the very message of solidarity you displayed on your social media page? That ain't it.
On Monday, Lea Michelle (Glee) found herself on the Summer Jam Screen.

"George Floyd did not deserve this. This was not an isolated incident and it must end," Michele tweeted, adding the hashtag, #BlackLivesMatter.
Whoa, whoa, whoa—hold up now, Lea, you got too much performative dip on your chip! Why is that, you may ask? Well, former Glee co-star Samantha Ware had one example, which she presented right on display (IN ALL CAPS SO YOU CAN'T MISS THIS READ) via a quote tweet.

"LMAO REMEMBER WHEN YOU MADE MY FIRST TELEVISION GIG A LIVING HELL?!?!" Ware responded. "'CAUSE I'LL NEVER FORGET. I BELIEVE YOU TOLD EVERYONE THAT IF [YOU] HAD THE OPPORTUNITY YOU WOULD 'SHIT IN MY WIG!' AMONGST OTHER TRAUMATIC MICROAGRESSIONS THAT MADE ME QUESTION A CAREER IN HOLLYWOOD…".
As Variety noted, "Ware had a guest recurring role as Jane Hayward in the sixth season of "Glee" in 2015, appearing in 11 episodes" and "Michele played Rachel Berry, one of the main cast members throughout all six seasons of Glee."

Because most folks in the black community are fed up with coddling the rampant ignorance and dismissive tactics to somehow "support" our struggles, a bulk of Black Twitter either joined in or watched along with much—wait for it—glee. Fellow Glee cast members such as Alex Newell and Amber Riley said a mouthful just by using gifs and Yvette Nicole Brown (who worked with Michele in ABC's short-lived show The Mayor) boosted Ware with, "I felt every one of those capital letters."
Like many microaggressions, this didn't seem to be an isolated event or one that was solely reserved for Ware. Usually, when several black folks tell us that something in the milk ain't clean, we have to at least listen.

Update: 6/2/2020, 6:13 p.m., ET:
It looks like consequences are coming rather swiftly. Meal-kit provider HelloFresh has said "goodbye" to their partnership with Michele.
"HelloFresh does not condone racism nor discrimination of any kind. We are disheartened and disappointed to learn of the recent claims concerning Lea Michele. We take this very seriously, and have ended our partnership with Lea Michele, effective immediately," the delivery service company tweeted on Tuesday.
Update: 6/3/2020, 8:47 a.m. ET: As expected, Michele has released a statement, apologizing for her past actions. Noting that she is soon to be a mother, she confirmed that she should, in turn, become a better role model for her child.
"When I tweeted the other day [in support of George Floyd], it was meant to be a show of support for our friends and neighbors and communities of color during this really difficult time, but the responses I received to what I posted have made me also focus specifically on how my own behavior towards fellow cast members was perceived by them," Michele told People in a statement.
Though she said she does not remember making the specific remarks Ware referenced, she noted that it "wasn't the point" since she "clearly acted in ways which hurt other people."
"Whether it was my privileged position and perspective that caused me to be perceived as insensitive or inappropriate at times or whether it was just my immaturity and me just being unnecessarily difficult, I apologize for my behavior and for any pain which I have caused," she added. "We all can grow and change and I have definitely used these past several months to reflect on my own shortcomings."