There will be one less clown on the streets.
In a statement Tuesday, McDonald's announced that Ronald McDonald won't be seen in public for a while, until the clown-related disturbances being reported across the country die down.
"McDonald's and franchisees in local markets are mindful of the current climate around clown sightings in communities and as such are being thoughtful with respect to Ronald McDonald's participation in community events for the time being," McDonald's spokeswoman Terri Hickey told CNN in an email.
The announcement comes as clown-related disturbances are on the rise across the country. As previously reported by The Root, the clown disturbances started in August, when people in Greenville County, S.C., reported seeing a creepy clown lurking near the woods. Others said that the clown was trying to lure children in the woods by offering them money. Then more people came forward, saying that the clown was in various parts of town, sometimes standing and simply staring at them, giving everyone the creeps.
After the South Carolina incident, there were reports of creepy-clown sightings in Alabama, Georgia, Maryland, Florida, Maryland, New Jersey, North Carolina and Pennsylvania.
Hickey said that this doesn't mean Ronald McDonald won't be seen at all, but the corporation is being thoughtful as to Ronald McDonald's participation in community events at this time.
G/O Media may get a commission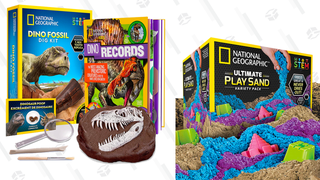 Up to 33% off
National Geographic Science and Activity Kits
Read more at CNN.