A day after TV One announced that Roland Martin would host a new daily morning show on its network, Journal-isms asked Martin, "What have the stories about your new show failed to mention?"
Martin replied by email:
"That no other Black network has taken on such an ambitious project to launch a show in the competitive morning space.
"All of them also ignore the reality of Blacks and social media, and by having a show that will be a three-screen show — TV, terrestrial radio and online — very few in the space today are doing that.
"Lastly, the diversity of guests in the morning space" is "about to be ramped up dramatically."
G/O Media may get a commission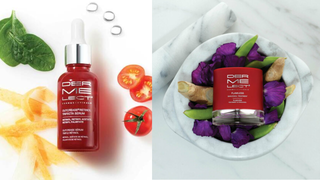 Save $19
Retinol Renewal Kit
The details, as reported by R. Thomas Umstead in Multichannel News:
"TV One this fall will launch a live, one-hour weekday news/public affairs show as part of a multiplatform news offering from network parent company, Radio One.
"TV One will simulcast the last hour of the three-hour News One Now radio program to be syndicated on Radio One stations across the country, Alfred Liggins, chairman of TV One and CEO and president of Radio One, told Multichannel News. The 7 a.m. to 10 a.m. show, which will offer news and analysis of politics, entertainment, sports and culture from an African American perspective, will be hosted by former CNN journalist Roland Martin.
"While the network has yet to specify a launch date, Liggins said the show would most likely debut in mid-September prior to the Congressional Black Caucus' Annual Legislative Conference. The Radio One portion of News One Now will also run on the Web via Radio One's dedicated NewsOne.com site, according to Liggins.
" 'This is a further evolution of TV One's commitment to better and more important television for African-Americans, and is also an extension of Radio One's history and philosophy of making sure we inform, entertain and advocate for the African-American community,' he said. 'This is the first time a network has approached African-American news on this type of commitment level.'
"Liggins said TV One's linear network simulcast of News One Now could expand to two hours or even the full three-hour radiocast in the near future. . . ."
The network's announcement played down a significant part of the story: "TV One's long-running, award-winning weekly news program, Washington Watch with Roland Martin, . . . concluded its four-year series run in May."
The show debuted in 2009. Johnathan Rodgers, then president and CEO of TV One, "said the creation of 'Washington Watch' stems from President Barack Obama winning the White House and from his own frustration with the current state of Sunday morning news shows," Frederick Cosby wrote at the time for BlackAmericaWeb.com. "The last straw that triggered Rodgers to green-light the show was what he perceived as a lack of mainstream news coverage of a black caucus trip to communist Cuba earlier this year.
" 'They didn't get any coverage and, if they did, people laughed and said it (the trip) didn't matter,' Rodgers said. 'The Congressional Black Caucus matters to us.' "
The show aired Sunday mornings with the other network talk shows, but unlike them, was taped on Fridays to save on production costs. C-SPAN Radio declined to rebroadcast it, as it does the mainstream shows.
Two weeks after "Washington Watch" debuted, the Nielsen Co. reported these total viewers for the Sunday talk shows: "Meet the Press," NBC, 3,020,000; "This Week," ABC, 2,660,000; "Face the Nation," CBS, 2,430,000; "Fox News Sunday," Fox News, 1,140,000; "Al Punto," Univision, 886,000; and "Washington Watch With Roland Martin," 70,000. The 11 a.m. hour of CNN's "State of the Union" averaged 571,000 viewers from Sept. 21 to Oct. 11, a Nielsen spokeswoman said then.
The show appeared to have carved out a small niche. However, Rodgers said, "It's not about the ratings."
It was also about the content. Martin was named "Journalist of the Year" by the National Association of Black Journalists a day after he disclosed that his contract as a CNN commentator was not being renewed.
The NABJ announcement quoted Vanessa Williams, former NABJ president and an editor at the Washington Post, citing "Washington Watch."
"No other African-American journalist and member of NABJ brought more news and analysis to black communities about the most important story of 2012 than Roland Martin. As managing editor and host of Washington Watch on TV One, Roland consistently offered journalism that reflected the hopes and fears of many African American voters as they anxiously watched to see whether Barack Obama would win a second term as president."
National Association of Black Journalists: NABJ Congratulates Roland S. Martin on New Role as Host of TV One's News One
Tracie Powell, Poynter Institute: How 'Washington Watch with Roland Martin' succeeds (Nov. 19, 2012)
Black Enterprise Ad Dollars Plummet After Cutback
Black Enterprise and Jet magazines, having cut back on the number of print issues published this year, suffered losses in print advertising dollars of 57.3 percent and 17.0 percent, respectively, for the first half of 2013, the Publishers Information Bureau reported on Tuesday.
Essence magazine suffered an 11.9 percent loss in ad dollars for its print editions, but Ebony increased its dollars by 11.5 percent, Latina by 12.5 percent and People en Español by 12.3 percent. Ad revenue for the Spanish-language Siempre Mujer declined by 9.9 percent and Ser Padres by 3 percent.
Black Enterprise announced in March it was cutting its print editions from 12 to 10 issues a year as it shifted to an emphasis on its online editions.
However, the Publishers Information Bureau, part of the Association of Magazine Media, recorded only three editions of Black Enterprise from January to June. It listed a decline of 57.3 percent in advertising dollars compared with January to June of 2012, and a decline in advertising pages of 56.6 percent.
Alfred A. Edmond Jr., the magazine's senior vice president/multimedia editor-at- large, did not respond to requests for comment on Wednesday. But he told Journal-isms in March, "All things being equal, we intend to deliver content across 10 print issues roughly equivalent to what we've delivered in 12 issues each year. The savings on printing and mailing two fewer issues each year is being shifted to our other media platforms, particularly digital, which has taken over from the print platform as a source of breaking news and delivers the responsiveness and interactivity our audience expects. Those expectations can hardly be met by printed newspapers, much less by monthly or even weekly magazines."
Edmond was paraphrasing a letter to subscribers from Earl G. Graves Jr., president and CEO, in the January/February edition.
Jet reduced its frequency to once every three weeks effective Jan. 1. It published nine issues from January to June, the bureau said, compared with 13 the previous year. Its ad pages declined by 25.8 percent. Desiree Rogers, CEO of the Johnson Publishing Co., which publishes Ebony and Jet, could not be reached on Wednesday, but she told Journal-isms in April, "The revenues from a magazine as you know are made up of subscriptions, ad revenue and newsstand. Jet is trending positive over last year in newsstand and subs," referring to subscriptions.
The print publication no longer supplies all of many magazines' ad revenue. Some have launched editions for tablet devices and smartphones and sell advertising there.
The Association of Magazine Media reported in its survey, "advertisers are following consumers. A preliminary study conducted by PIB based on data collected by Kantar Media showed that, for the 58 Magazine Media titles that measure both print and iPad advertising, print ad pages and iPad ad units grew +7.0 % during the first half of 2013, compared to the same period in 2012. For the same set of titles during the same period, iPad ad units increased +24.5%. This data provides a more accurate representation of Magazine Media vitality. . . ."
However, as Lauren Indvik noted Wednesday for Mashable, "Despite the solid growth in sales volume, the figures suggest that iPad ads are commanding only a fraction of the dollars that print ads do. . . ."
Overall, "print advertising continues to decline," Emma Bazilian reported for Adweek, referring to advertising pages. "Advertising for the quarter fell 4.5 percent versus the year-ago quarter, putting the total decrease for the first half of the year at 4.9 percent.
"Some of the hardest-hit magazine categories included financial titles (The Economist, Bloomberg Businessweek, Forbes, Money and Harvard Business Review all saw double-digit ad page drops on soft financial advertising), newsweeklies (Time was off 16.8 percent, The Week, 22.7 percent) and thought-leaders like The Atlantic, New York and The New Yorker. . . ."
MPA — The Association of Magazine Media: Magazine Media Advertising: The Full Picture
Social-Media Debate Not Influencing Zimmerman Jury
"After taking less than a week to call 18 witnesses, George Zimmerman's defense attorneys rested their case Wednesday in the neighborhood watch volunteer's second-degree murder trial," the Associated Press reported.
"Prosecutors and defense attorneys planned to work out the jury instructions before they present closing arguments Thursday. Judge Debra Nelson said the case could be sent to the six jurors as early as Friday. . . ."
The trial has been a hot topic on social media, but the debate there apparently had no effect on the jury.
Michael Skolnik, editor-in-chief of Global Grind, a news and entertainment site focusing on the hip-hop community, said on NPR's "Tell Me More," which devoted its program Wednesday to the trial of Zimmerman, who maintains that he shot and killed unarmed black teenager Trayvon Martin in self-defense:
"I was in the courtroom Monday and Tuesday with Trayvon's family, supporting them. I think, you know, watching it on television, watching it on the Internet, live streaming it or following it on Twitter certainly is very important to pay attention to what's going on in this trial. But that courtroom, it's so small. It's so quiet. The jury is right there. They have no access, supposedly, to anything that we have outside of that courtroom. So all they are hearing is what's in that courtroom.
"So all the — these sideshows, all the other, you know, issues that are going on in the media, they have no access to. They're so focused on what's going on that courtroom and frankly, you know, when — I was in the hearing last night — and when these blow-ups happened, you know, they're huge. They're huge inside that courtroom because anything that evokes emotion in such a small area, everybody feels it."
Laura Bennett, New Republic: CNN Is Bad at Tabloid Journalism
Charles M. Blow, New York Times: Questioning the Struggle (July 3)
Stanley Crouch, Daily News, New York: Genuine empathy in a cynical age
Jarvis DeBerry, NOLA.com | the Times-Picayune: George Zimmerman trial shows the effectiveness of a well-funded defense
Earl Ofari Hutchinson, syndicated: Did Marijuana Use Make Travon Martin Violent?
Real Clear Politics: Juan Williams: "The Media Initially Libeled" George Zimmerman (July 6)
Jennifer Rubin, Washington Post: Zimmerman deserves a fair shake in court, if not the media
Mike Schneider, Associated Press: Impact of social media on Zimmerman trial
Lynne K. Varner, Seattle Times: George Zimmerman vs. Trayvon Martin: The trial of the century (July 5)
Erik Wemple, Washington Post: Zimmerman case a media-driven 'racial morality play': Claim
Matt Wilstein, Mediaite: Zimmerman Defense And Media Need To Stop Making Trayvon Martin A 'Hypothetical' Murderer (July 5)
"Racist" Goes Undefined, but Poll Results Generate Buzz
"A new poll suggests that Americans, including black Americans, tend to think blacks are more racist than whites or Hispanics. I don't think we are. We only sound like it sometimes," Clarence Page wrote Tuesday for the Chicago Tribune.
But what is "racist?" The poll does not say. Scott Rasmussen, founder and president of the polling company, told Journal-isms, however, "In the future, we will ask additional questions to learn more about why people have these attitudes."
The lack of a definition hasn't stopped the commentary. Page wrote, "The poll by the conservative-leaning Rasmussen Reports finds a larger minority of Americans, 37 percent, think most black Americans are racist compared with the 15 percent of the respondents who think most white Americans are racist and the 18 percent who think that about Hispanic-Americans.
"I expected the numbers to fall heavily along racial and partisan lines, and they do. For example, 49 percent of conservatives consider most blacks to be racist compared with 21 percent of liberals. Considering how many of today's conservatives tend to hear any racial grievance as 'playing the race card,' I'm not surprised.
"What defies the usual stereotypes is the sizable minority of blacks, 31 percent, who agreed with the 38 percent of whites in the poll who think most blacks are racist. That's higher than the 24 percent of blacks (and 10 percent of whites) who think most whites are racist.
"That stereotype-shattering result might suggest that we black folks have some work to do in cleaning up our own prejudices. Understood. But what? The poll offers not a clue.
"For starters, it doesn't define 'racist,' even though there is hardly a more abused, misused and overused word in the English language than the R-word.
"Two major misunderstandings make a mess of today's race debates. One, our racial attitudes are based on our personal experiences and all of our experiences are very different. Two, everybody carries different definitions in their heads of what racism is. . . ."
Rasmussen seemed to agree. He told Journal-isms by email, "Many times we poll on topics where people might have different definitions. For example, we regularly ask if the US economy is fair, is it fair to the middle class, is it fair to some other segment of the population. We do not define these terms because we are simply looking for their underlying perceptions. On the subject of whether someone is racist, we took the same approach. Different people may disagree about what the word means, but they have a perception of whether others are racist.  In the future, we will ask additional questions to learn more about why people have these attitudes."
Earl Ofari Hutchinson, syndicated: Why So Many Believe Blacks Are Most Racist Americans
Catherine Poe, Washington Times: Race in America: Why are blacks being seen as racists?
Asian American at Sun-Times Weighs In on Headline
Rummana Hussain, former president of the Chicago chapter of the Asian American Journalists Association, says she was working at the Chicago Sun-Times on Saturday when the paper composed the "FRIGHT 214" headline that many found offensive, but says there was only a "50-50 chance that I would pick up on why that headline would be offensive had I glimpsed it earlier."
Hussain, the criminal courts reporter and a metro editor, told Journal-isms by email, "I actually was working the day of the accident," in which two teenage Chinese girls died as an Asiana Airlines plane crash-landed in San Francisco. "I am a metro editor, not a copy editor, although I work closely with the copy editor on duty. He usually does send me a [mockup] of the front page for the next day but once I'm off duty I sometimes forget to check my work email. Anyway, I firmly believe there [were] no harmful intentions."
Hussain, who has been with the Sun-Times for 12 years, continued, "As a minority, I'm definitely in tune with the myriad of racial and ethnic stereotypes and slurs that are out there but in [hindsight], I think there would have been a 50-50 percent chance that I would pick up on why that headline would be offensive had I glimpsed it earlier. Nevertheless, I am 100 percent sure whoever came up with the headline was thinking of the horrific experience the passengers endured and not a way to malign or make fun of Asians."
Those who found the headline objectionable said it seemed to mock Asians who might substitute an "r" for an "l" in saying "flight" and noted that it was an Asian airline with Asian passengers. "Speaking as an Asian American, it's really hard to convey the obnoxiousness and hurtfulness of those 'R-L' of jokes," Alexander Abad-Santos wrote for the Atlantic.
In calling the headline "certainly unfortunate" on Sunday, Bobby Caina Calvan, AAJA MediaWatch chair, wrote, "If the Sun-Times' copy desk is like many others in newsrooms across the nation, it probably lacked the diversity of voices on staff that might have questioned the appropriateness of the headline."
Others went further. "The Sun-Times will probably never admit it, but my money is on that the headline writer thought he was being creative," the Asamnews.com blog said.
"First, [it's] pretty sick to use a play on words in a headline for a tragedy.
"Secondly, this one's pretty racist. . . ."
Jim Kirk, editor of the Sun-Times, told Calvan, "There was nothing intentional on our part to play off any stereotypes … If anybody was offended by that, we are sorry."
Emil Guillermo blog, Asian American Legal Defense and Education Fund: Racism: Milena Clarke's old-fashioned experience vs. the new kind after the Asiana crash
Chuck Sudo, chicagoist: Sun-Times Apologizes For Punny Headline On Asiana Airlines Crash
AP Approves "Coup" to Describe Overthrow in Egypt
"While the Obama administration has avoided describing the military overthrow of Egyptian President Mohammed Morsi as a 'coup' — a designation that could force cutting off U.S. aid — news organizations will make their own determinations based on events on the ground," Michael Calderone reported Monday for the Huffington Post.
"On Monday evening, Associated Press editors advised staff that 'coup now seems to be an accurate term for what transpired,' according to a staff memo obtained by The Huffington Post.
"AP editors had previously advised using descriptions such as a 'military overthrow of the government.' In the memo, editors wrote that the 'military's subsequent actions — locking up the leaders of the Morsi regime, arresting members of his political party, and cracking down on the pro-Morsi media — have made the takeover seem more than a simple response to public pressure in that first night.'
"Still, while AP writers can use the word 'coup,' editors urged them to make clear that the military's toppling of the elected Egyptian president was 'spurred by a popular revolt against the Islamist-dominated government, whose adherents resisted the coup.'
"The AP's decision is significant not only because the news organization's copy is widely distributed, but also given that many media outlets follow AP style and may similarly describe events in Egypt as a 'coup.' . . . "
Associated Press: Al-Jazeera kicked out of Egypt news conference
Ta-Nehisi Coates blog, the Atlantic: Egypt and the Process of Democracy
Committee to Protect Journalists: Egyptian press under fire after Morsi's ouster
Paul Farhi, Washington Post: Mideast journalists allege bias in al-Jazeera's reporting on Morsi and Muslim Brotherhood
Reporters Without Borders: Media freedom still flouted a week after military takeover
Eugene Robinson, Washington Post: Egypt's dark future
ABC News Veteran Named News V.P. for Fusion
"Fusion, ABC and Univision's new network aimed at young English-speaking Hispanics in the U.S., is continuing to bolster its staff with the appointment of Mark Lima as its Vice President of News," Deadline Hollywood reported on Tuesday. "Fusion's interim President Beau Ferrari made the announcement today.
" 'Mark has a keen eye for stories that matter, knows how to create compelling television, and is a tested expert in breaking news situations. He is an experienced network producer who has led large teams to award-winning success, and we're very fortunate he's joining Fusion', said Ferrari. Lima, an Emmy and Peabody-winning ABC News veteran, was most recently part of the team at Nightline responsible for developing stories and leading digital and social media integration. . . .
Company Creates "Al" Mannequin for Target Practice
"Zombie Industries, a firearms target company that produces 'life-sized; three-dimensional tactical mannequins that "bleed" when you shoot them,' has released a new target — 'Al' — that is presumably inspired by MSNBC host Rev. Al Sharpton," Timothy Johnson reported Tuesday for Media Matters for America.
"Sharpton, who hosts PoliticsNation, has been an outspoken proponent of gun violence prevention laws and has frequently commented on the killing of Trayvon Martin.
"In May, Sharpton called a Zombie Industries' exhibition of a target that resembled President Obama at the National Rifle Association's annual meeting a 'stunning, offensive display.' The NRA asked Zombie Industries to remove the target from its display, although it is still available for purchase on the Zombie Industries website.
"A description of the target on Zombie Industries' website describes how 'Poor Al he was a Sharp guy' was attacked by zombies while he 'complained about complete nonsense' to a truck driver who offered him a ride. . . ."
Chef Carl Redding, raprehab.com: Reverend Sharpton asked to return "Blood Money" from Cash Money
Mary Mitchell, Chicago Sun-Times: Al Sharpton aims to spotlight gun violence here (July 1)
"Everyone — black, white, Latin, young, old, pregnant, man, woman — is naked in the 2013 ESPN Body Issue," Dodai Stewart wrote Tuesday for Jezebel. "It must be said: Progress has been made. The first Body Issue in 2009 featured tennis champ Serena Williams naked on one cover, but alternate covers that same year pictured male athletes either partially clothed or just showing off their chests — not same level of nudity as a topless woman. . . ."
"Al Jazeera America, the new American news channel that will launch in late August, today announced its first four news anchors. Jonathan Betz, Richelle Carey, Morgan Fogarty and Del Walters will present live news throughout the day from Al Jazeera America's studio in New York City," the network announced on Thursday. Carey and Walters are black journalists. Carey spent the last seven years as an anchor and correspondent for CNN and was a weekday anchor for CNN's HLN. Walters spent more than two decades as an anchor and senior investigative reporter for WJLA-TV in Washington, started his own production company and was a news anchor for Washington's all-news WTOP radio. [Added July 11.]
On Wednesday, El Diario, La Opinión, New America Media, Irish Echo, Bangla Patrika, Daily Khabrain, Nowy Dziennik, Primera Hora and a growing list of media began publishing a joint editorial strongly urging Congress "to produce a workable policy solution that will resolve the legal limbo of millions of undocumented immigrants," the news organizations announced. Editorial in Spanish.
"Three North Carolina radio stations that serve African-American listeners are collaborating to create a statewide jazz service and drive-time news and public affairs programs in a bid to boost audience while sharing costs and resources," Mike Janssen reported Wednesday for Current.org. "The National Federation of Community Broadcasters is facilitating the project, which includes WFSS in Fayetteville, WNCU in Durham and WSNC in Winston-Salem. The stations currently air dual formats of jazz with news/talk during drive time, and all are licensed to historically black schools — Fayetteville State University, North Carolina Central University and Winston-Salem State University. . . ."
The problem with the debut episode of "Chasing New Jersey," which replaces a traditional 10 p.m. newscast on WWOR-TV in Secaucus, N.J., "is that it seems to be trying too hard" to skew young, Diana Marszalek wrote Tuesday for TVNewsCheck. Meanwhile, U.S. Rep. Frank Pallone, a Democratic New Jersey congressman running for Senate, is asking the FCC to revoke WWOR's license because cancellation of the 10 p.m. newscast "fails New Jerseyans who want & deserve local news coverage. . . .," Kevin Eck reported Tuesday for TVSpy.
"After two years as news director at WIS, Rashida Jones is leaving the Columbia, S.C. NBC affiliate to join MSNBC as an executive producer," Merrill Knox reported Wednesday for TVSpy. "Jones will oversee 'Jansing & Co.,' the 10 am ET show anchored by Chris Jansing. She will begin at MSNBC in August. . . ."
Doris Truong, acting president of Unity: Journalists for Diversity; Keith Woods, vice president for diversity in news and operations at NPR; Sally Lehrman, a Knight Ridder chair and professor in the Communication Department at Santa Clara University; Dori Maynard, president of the Robert C. Maynard Institute for Journalism Education; Felix Gutierrez, professor of journalism and communication and of American studies & ethnicity at the University of Southern California; and Benet J. Wilson, who chairs the National Association of Black Journalists Digital Task Force; are among those quoted by Riva Gold in "Newsroom Diversity: A Casualty of Journalism's Financial Crisis," posted Tuesday by the Atlantic.
Syria's media is so crippled and its Internet infrastructure so tattered that Syrian journalists have launched Radio Rozana, "a station that aims to bring objective and independent reporting to Syrian listeners," Amar Toor reported Monday for the Verge. "The Arabic-language station gathers news from a network of undercover journalists on the ground in Syria, and broadcasts two hours of news, commentary, and interviews every day via satellite and on its website. . . ."
In Brazil, "Reporters Without Borders has learned with incredulity and dismay that the journalist José Cristian Góes was sentenced to seven months and 16 days in prison on 4 July in connection with a short piece of fiction mocking local political corruption that he posted on his blog, Infonet, in May 2012. . . .," the press freedom group reported on Monday.
"Honduran police said on Tuesday they believe a severed head and other body parts found in a region of the country ravaged by Mexican drug cartels belong to a popular television journalist kidnapped last month," Gustavo Palencia reported Tuesday for Reuters. "Honduran police chief Juan Bonilla said officers found the clothing Anibal Barrow was last seen wearing and a savings account booklet in his name near a partially buried and decomposing headless torso in the northern city of Villanueva. . . ."
Follow Richard Prince on Twitter.
Facebook users: "Like" "Richard Prince's Journal-isms" on Facebook.
Journal-isms is published on the site of the Maynard Institute for Journalism Education (mije.org). Reprinted on The Root by permission.