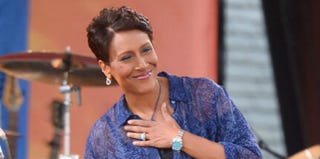 Good Morning America's Robin Roberts, who underwent a bone marrow transplant in September to treat myelodysplastic syndrome, spent a week in the hospital after contracting a common virus that her weak immune system wasn't able to fight off, she told Facebook fans in a blog post when she was released on Friday.
From Essence:
"Our immune systems usually take care of a virus like this … but mine is only 59 days old," she wrote. "Physically I felt fine but being back in the hospital took an emotional toll on me. The wonderful doctors, nurses and support staff lifted my spirits … it was comforting seeing them again. They assured me the majority of BMT patients have to be re-admitted to the hospital for various reasons. I decided to look at my brief stay as a "tune up"… and then I would be back on the road to recovery. By the grace of God, I am! The virus is under control and my numbers are going back up."
Roberts has possibly set a new standard for keeping concerned and adoring fans updated on her physical and emotional status during an illness. A hospital interview, conducted by her sister, will air on Good Morning America Tuesday morning.
Read more at Essence.