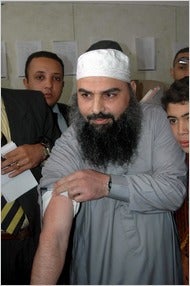 Italy went squad body on the preeminent squad bodiers.
In a historic case, an Italian judge has convicted a CIA base chief, an Air Force colonel and 21 American CIA operatives with the kidnapping and rendition of a muslim cleric in 2003.
Judge Oscar Magi handed an eight-year sentence to Robert Seldon Lady, a former C.I.A. base chief in Milan, and five-year sentences to the 22 other Americans, including an Air Force colonel and 21 C.I.A. operatives. Three of the other high-ranking Americans were given diplomatic immunity, including Jeffrey Castelli, a former C.I.A. station chief in Rome.

Citing state secrecy, the judge did not convict five high-ranking Italians charged in the abduction, including a former head of Italian military intelligence, Nicolò Pollari.

All the Americans were tried in absentia and are considered fugitives. Through their court-appointed lawyers, they pleaded not guilty.

Italian prosecutors had charged the Americans and seven members of the Italian military intelligence agency in the abduction of Osama Moustafa Hassan Nasr, known as Abu Omar, on Feb. 17, 2003. Prosecutors said he was snatched in broad daylight, flown from an American air base in Italy to a base in Germany and then on to Egypt, where he asserts that he was tortured.

Ian C. Kelly, a State Department spokesman, said the United States was "disappointed" by the verdicts in Milan. He said that because the verdicts were likely to be appealed, he could not comment on the specifics of the case.
Before anyone starts championing this as a huge victory it should be understood that this may not have any practical effect and people have a very good chance of not going to prison. Oh, and Italy and America are still good friends; so good, in fact, that Italy may have been in on the whole thing from jump.