I thought long and hard about writing this post because frankly, I was so embarrassed by the last episode of Real Housewives of Atlanta I saw that I didn't want anyone to know that I had actually watched the show. Clearly I'm not a fan and literally stumbled across an episode while channel surfing.

Why did I stop on Bravo, a cable network previously known for high-quality programming that has been run into the ground under the leadership of programming superstar Andy Cohen? If ever there was a textbook case of a cable network trading quality for audience share and advertising revenue, this is it.
On this particular episode of RHOA, self-proclaimed Southern "belle" and etiquette expert Phaedra Parks was planning a trip for her cohorts to South Africa. Anyone who knows anything about me knows that I am interested in anything related to the Diaspora — so much so that I stopped to watch an episode of RHOA. But knowing what I know about the show, I knew that these crazy women going to South Africa couldn't be anything but disastrous.

Imagine my lack of surprise hearing Parks talk about a continent as if it were a country and making broad and outdated stereotypes, stating that when you think of Africa, you think of grass skirts and drums. Really? Her lack of knowledge and sophistication about African culture was trumped only by her lack of decorum, along with Sheree Whitfield's, at the APEX Museum. Can you say "sheer and utter buffoonery"?
These two supposedly grown women were actually making fun of an exhibit on the transatlantic slave trade, a move that was not only in poor taste but also maddening. Parks and Whitfield had the bad manners to continue their baffling behavior in front of the director of the museum and during the part of the exhibit on the Middle Passage.
I could not believe the high level of callousness and immaturity and low level of consciousness and seriousness on display by these women. This show is broadcast around the world, and it is unconscionable that they could not pull themselves together to learn something about their heritage, our relationship to Africa and why this trip would be beneficial to this group of women, besides being a tourist destination.
If you thought their behavior might improve, then the actual first episode of their trip to Cape Town, South Africa, would prove you wrong. The extended screaming match between the women over an invitation to a dinner party, where an apparent attempt to broker peace devolved into animal-like shrieking and mass confusion, must have given South Africans a distorted view of black American female behavior and relationships. Did I mention that this first episode of their trip to South Africa was the highest-rated episode of the season and the second-highest-rated episode in the history of all Real Housewives franchises?

How sad is it that two mothers are such cultural and historical lightweights that they couldn't stand still for a few moments to learn why the continent is referred to as the motherland? The unwillingness to develop an interest in South Africa that is not superficial — particularly given the strong historical links between the Jim Crow U.S. South and apartheid South Africa — is embarrassing.
G/O Media may get a commission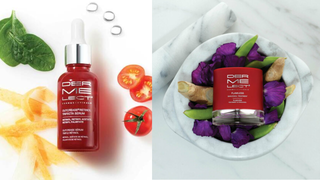 Save $19
Retinol Renewal Kit
The fact that Cohen and network executives at Bravo continue to promote this show, which represents the worst of black people and Atlanta, is deplorable. The civil rights history and legacy of Atlanta is incredible. The fact that this city was once termed the "black mecca" because of the cultural and intellectual capital that middle-class, upwardly mobile and well-educated blacks brought to the area has been invisible on this highly rated show.

I know what you're thinking: Why do I watch? I actually don't watch the show — especially last season's drama with Kim Zolciak, Nene Leakes and "Sweetie." I stumbled across this season's broadcast and in the future will keep it moving, because I will not be watching any programming on the Bravo network in the near future. I can't take any more denigrating images of black women being circulated around the world and lining the pockets of network executives. Besides, they don't need me — they've got 3.9 million people watching.

Further, to allow women to exemplify intellectual, emotional and spiritual deficiencies that influence how I am perceived as a black American woman in the real world is no longer an option. Their "reality" show is affecting the reality of black women who have to live out here in the real world and deal with the effects of their shenanigans on our everyday lives. That is a cotton-picking shame, pun intended. 
Instead, I'll be watching the Africa Channel, where "Africa comes alive" and little girls masquerading as grown women don't exist.
Nsenga K. Burton, Ph.D., is editor-at-large for The Root. Follow her on Twitter.
Nsenga K. Burton, Ph.D., a media scholar, is digital editor in chief at Grady Newsource and a faculty member of the Cox Institute of Journalism, Innovation, Management & Leadership at the Grady College of Journalism and Mass Communication at the University of Georgia. She is founder and editor in chief of the award-winning news blog the Burton Wire. Follow her on Twitter here or here.