Wait. So this is a review of Black Panther?
Um, not exactly ...
SO THIS MEANS YOU GOT TICKETS TO THE PREMIERE? OMFG! DID YOU SEE LUPITA? WAS HER SKIN LIKE SNICKERS-SCENTED COCOA BUTTER COVERED IN GLITTER? DID ANGELA BASSETT AND DANAI GURIRA SLAY YOU? LIKE, DID YOU LITERALLY DIE? ARE YOU LITERALLY DEAD RIGHT NOW? AND DID YOU GET MICHAEL BAAAAAAEEEE JORDAN'S NUMBER FOR MY SISTER AND RYAN COOGLER'S NUMBER FOR MY OLDER AND SMARTER SISTER? DID YOU SEE OPRAH? STEDMAN? OMFG YOU CAUGHT AN UBER WITH OPRAH AND STEDMAN WAS DRIVING IT, WASN'T HE? WHERE WAS GAYLE? WAS GAYLE WITH BARACK? DID YOU DAP UP THE ADAM CLAYTON POWELL HOLOGRAM?
Well ...
WHAT DID YOU WEAR? A BLACK DASHIKI AND BUTTER TIMS? THAT "NIGGER" T-SHIRT NAS ROCKED WHEN HE WAS SUPPOSED TO TITLE THAT ONE ALBUM NIGGER BUT INSTEAD CALLED IT I NEED A SECOND MORTGAGE OR SOMETHING? A COLIN KAEPERNICK JERSEY DIPPED IN CHEESE GRITS? ALL BLACK LIKE THE OMEN? WHICH HAS ALWAYS BEEN SUCH AN ODD AND AWKWARD METAPHOR BUT WHATEVER! A MORGAN FREEMAN SKIN SUIT? NIGGA, DID YOU FLAY MORGAN FREEMAN AND ROCK HIS ACTUAL SKIN? WHAT DID YOU DO WITH HIS BODY?
I didn't actually ...
AND THE MOVIE? OMFG THE MOVIE! DID YOU CRY DURING THE CREDITS? WHEN BLACK PANTHER FIRST APPEARED ON-SCREEN, DID YOU STAND UP AND RECITE THE ENTIRE FIRST VERSE OF WU-TANG'S "TRIUMPH"? DID THE GHOSTS OF HARRIET TUBMAN AND WILT CHAMBERLAIN SIFT DOWN FROM THE SCREEN? DID YOU SWAG SURF WITH HARRIET TUBMAN'S GHOST? DID THIS MOVIE CHANGE YOUR LIFE AND THEN INSPIRE YOU TO GO AND START A FOUNDATION CALLED "A NIGGA WHO WANTS TO CHANGE LITTLE NIGGAS' LIVES BECAUSE BLACK PANTHER CHANGED MINE"?
WILL MOVIES EVER BE THE SAME AGAIN? WERE YOU SO TRANSFIXED BY WHAT YOU WITNESSED ON-SCREEN THAT YOU BECAME CONVINCED YOU'D NEVER SEE ANYTHING GREATER, WHICH MADE YOU SAY "FUCK IT, I DON'T NEED Y'ALL ANYMORE" TO YOUR EYES BEFORE YOU GOUGED THEM OUT? DID BLACK PANTHER MAKE YOU BLIND???
I didn't actually see the movie, man. This is just a review of all the reviews I've read so far today.
SO YOU DIDN'T SEE LUPITA'S SKIN OR THE ADAM CLAYTON POWELL HOLOGRAM?
Nah. I didn't get an invite.
SO YOUR LIFE HASN'T BEEN CHANGED BY BLACK PANTHER YET? YOU ARE NOT PRAYING TO THE ALTAR OF T'CHALLA?
I mean, I do plan to see the movie. And I'm sure I'll enjoy it. But none of those things are happening to me.
YOU DON'T WANT TO MOVE TO WAKANDA?
I mean, maybe if it actually existed. And had universal health care.
SO WHY AM I EVEN TALKING TO YOU?
So I could share that people are very excited about this movie, and from what I've read about it, it appears to be pretty good. That's all.
G/O Media may get a commission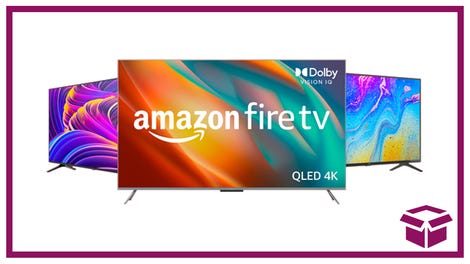 Ooh. stunning.
New Amazon Fire TVs
THIS WAS ANTICLIMACTIC!
Maybe you need to just settle down a bit.
I THINK YOU'RE RIGHT! BUT I CAN'T BECAUSE I DRANK ALL OF THIS SUPER-DUPER EXTRA VANTABLACK COFFEE THIS MORNING!