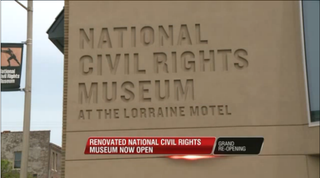 The Lorraine Motel represents a watershed moment in the civil rights movement. On April 4, 1968, the Rev. Martin Luther King Jr. was assassinated after stepping onto a second-floor balcony at the motel in Memphis, Tenn.
In 1991, the building was transformed into the National Civil Rights Museum, eventually showcasing memorabilia such as the bus where Rosa Parks refused to give up her seat to a white man and information about the formation of organizations like the Southern Leadership Conference. But it had fallen into disrepair and closed 18 months to undergo a $28 million facelift.
It reopened Saturday amid a celebration that was attended by hundreds, WREG Memphis reports.
"What this is about is not the exhilaration but the rededication to strength to resilience and to stick to it that we have to carry on in our struggle," D'Army Bailey, founder and civil rights attorney, told the station.
He went on to say that while the movement has progressed, there is still much work to be done.
"We need to roll up our shirt [sleeves] and tackle the real issues and chains; poverty, crime, the lack of quality education for our children," Bailey told WREG.
Read more at WREG Memphis.