Rev. Martin Luther King Jr. has rightfully been celebrated as one of the most important political leaders of the 20th century, but he doesn't get the credit for his significant influence on African-American music.
Most music lovers and civil-rights-history buffs know that James Brown, the "Godfather of Soul," headlined an unforgettable concert in Boston on the night of April 4, 1968, immediately after King was assassinated in Memphis. Memorialized in David Leaf's documentary, The Night James Brown Saved Boston, James Brown's riveting performance transfixed his television and live audience to such a degree that a riot was averted in Boston and a (temporary) interracial mourning period resulted.
This mourning shaped more than James Brown's concert that night. It led artists like Nina Simone and Bill Cosby to record original compositions about King's death. Nina Simone first performed "Why? (The King of Love is Dead)," written by her bassist Gene Taylor, at the Westbury Musical Festival in Long Island, N.Y., three days after King's assassination. Unlike the up-tempo beat of her 1963 political anthem "Mississippi Goddamn," written in response to the Birmingham church bombing, Simone's eulogy to King was a sonic mélange that opened with the simple chords of the protestant hymn and ended in a preach song. This shift in musical rhetoric was never arbitrary, but signaled a transformation in American politics as well. Similar to James Brown, Simone appeared before an interracial audience and her simple tribute futilely asked the question "why" King had to die, but also substituted the irony and impatience of her earlier protest music with a paean to national mourning.
While Simone's elegy conveyed what King himself once called the "disappointment" of the black power movement, Bill Cosby's 1971 jazz-funk composition, "Martin's Funeral" is an even more radical. Recorded with the Badfoot Brown & the Bunions Bradford Funeral Marching Band, Cosby's album features only two songs, the first is a jazz-funk instrumental tribute to Martin on which Cosby plays electronic piano. Music critic Thomas Jurek describes the song as "building for 20 minutes from sad reverence and mournful marching into stomping rage, and finally, into release and acceptance." In both his 2,000-word liner notes and the intense complexity of the music itself, Cosby admits his song was inspired by his attendance of King's funeral service. When Cosby's song, which features percussionist Big Black on bass drum, merged jazz and funk, it served as a musical metaphor for a generation that fought optimistically for civil rights, but now turned inward to create a new sound and beat, for their black power ideologies.
If musicians immediately responded to King's death with their personal dirges, by the 1980s and 1990s artists like Stevie Wonder and Public Enemy celebrated his life with public protests. Most famously, of course, is Stevie Wonder's 1981 R&B single, "Happy Birthday." Wonder's campaign to make King's birthday a national holiday became the soundtrack for a burgeoning post-black power movement of multiculturalism that we now associate with Jesse Jackson's Rainbow Coalition. Wonder deplores opposition to the holiday as anti-peace, as he sings "I just never understood/How a man who died for good/Could not have a day that would/Be set aside for his recognition." The national holiday, he rejoices, would be the culmination of King's dreams of racial harmony and "love and unity for all of God's children."
G/O Media may get a commission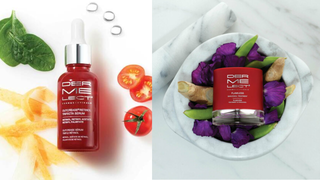 Save $19
Retinol Renewal Kit
Today, Wonder's song is the official birthday chant for King's holiday (alongside 50 Cent's "In Da Club," the unofficial birthday song for many African Americans). However, despite the fact that President Ronald Reagan signed King's birthday into a national holiday on Nov. 2, 1983, in 1991, the hip-hop group Public Enemy resurrected King's life in song form. On their fourth and most celebrated album, Apocalypse 91 … The Enemy Strikes Black, Public Enemy released "Can't Truss It," "Shut Em Down" and the controversial song and video "By the Time I Get to Arizona." Arguably, this song remixes the disillusionment of Nina Simone's and Bill Cosby's mourning and the demands of Stevie Wonder's ode. Defiantly reenacting the rage and racial pride of the black power movement, Public Enemy's music video "By the Time I Get to Arizona" featured band members' video murdering then-Arizona Gov. Fife Symington III, who refused to recognize Martin Luther King Jr.'s birthday as a national holiday.
In contrast to what Ta-Nehisi Coates describes as the slight out-of-touchness of Public Enemy's lyrical protest in the post-racial age of Obama, Lil Wayne's recent allusion to King in the song "Playing with Fire" off Tha Carter III is at best nihilistic, and at worse, narcissistic. Bringing us back to King's death, Wayne raps "So assassinate me, bitch/Cause I'm doin' the same shit Martin Luther King did!/Checkin' into the same hotel/ the same suite, same balcony/like assassinate me!"
While writing himself into King's legacy of radical black politics might seem like anathema or sheer hubris, Wayne's odd reference to King's murder is akin to what Michael Eric Dyson described as King's own "automortography" and prophesies of death. In Lil Wayne's world, King is now the metaphor for the fragile mortality of young African-American men for whom homicide is the leading causing of death. Like those before him, Wayne's return to King intimates the politics of our moment as well participates in the long history of African-American homage to King's life: musical odes that grieve King's death, while poignantly reincarnating his beloved legacy.
Salamishah Tillet is an assistant professor of English at the University of Pennsylvania and co-founder of the non-profit organization, A Long Walk Home, Inc., which uses art therapy and the visual and performing arts to document and to end violence against underserved women and children.
Salamishah Tillet is a rape survivor and co-founder of A Long Walk Home, a nonprofit that uses art to end violence against girls and women. She is also an associate professor of English studies at the University of Pennsylvania and the author of Sites of Slavery: Citizenship, Racial Democracy, and the Post-Civil Rights Imagination. She is working on a book about civil rights icon Nina Simone.