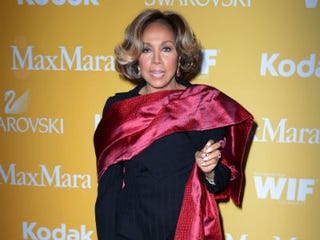 Long before Kerry Washington's star turn on ABC's television drama "Scandal," there was Diahann Carroll and "Julia." Debuting on NBC in September 1968, the half hour sitcom followed Carroll as a nurse raising her son and Shadow and Act's Sergio takes a look back at the strides made by Carroll.
The show was a half hour sit-com, revolving about the life of a young widow played by Carroll who worked as a nurse for a cantankerous, but lovable doctor (Lloyd Nolan) while raising her precocious young son Corey, played by Marc Coppage.

It was one of the first network TV shows to feature a black person in the lead, and an even rarer one to feature a black woman in the lead role ( "I Spy" with Bill Cosby came out three years earlier but he was the co-star not the lead).

There had been the old TV show from the 50′s, Beulah, about a black maid, which was loaded up to the gills with over-the-top black stereotypes. But here was a show about a young, beautiful, independent black woman with a career, in the lead, and you'll be hard pressed to name similar others, and even if you can, it's less than a handful outside of Scandal.

The show was a ratings smash when it premiered, and for three seasons did extremely well. So popular that they even came out with a child's school lunchbox (see below). Can you imagine a "Basketball Wives" lunchbox? You might get cooties.
Read Sergio's entire piece at Shadow and Act.
The Root aims to foster and advance conversations about issues relevant to the black Diaspora by presenting a variety of opinions from all perspectives, whether or not those opinions are shared by our editorial staff.