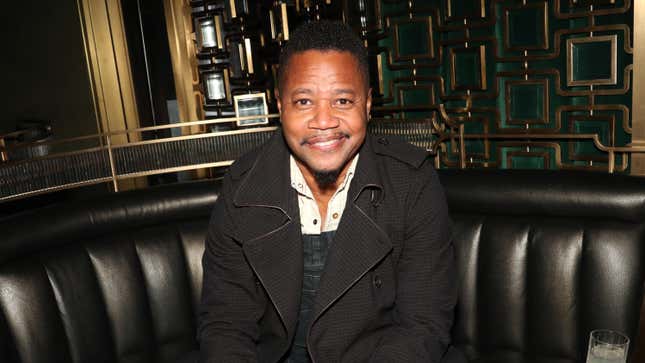 Cuba Gooding Jr. will walk free when it comes to the 2013 alleged rape case brought against him by an unnamed woman back in 2020.
Marlon Wayans Sings The White Chicks Anthem, Talks The Daily Show on That's So Random
According to Deadline, mere minutes before the Radio actor was set to go on trial for the civil case in New York and jury selection was about to begin on Tuesday, a deal was met between the two parties. Additional details confirmed that the case was settled for an unspecified amount.
"TRIAL OFF: The jury trial scheduled to go forward today is off the calendar," the federal court docket read. "Reason for cancellation (on consent): the parties have resolved the matter."
As previously reported by The Root, in August 2020, the unidentified woman filed a civil lawsuit against the actor, alleging that he raped her twice in 2013. She sued the Oscar-winning actor for a "crime of violence" under the New York City Victims of Gender-Motivated Violence Protection Act. The plaintiff was being represented by longtime women's right's lawyer Gloria Allred. Neither Allred nor her client had any comment on Tuesday's settlement.
This ruling just knocks down at least one serious case for Gooding Jr. He is still facing charges of forcible touching stemming from several accusations of sexual misconduct that allegedly took place in 2019. He has since pled guilty to those charges and offered an apology to his alleged victims, saying at the time: "I apologize for ever making anybody feel inappropriately touched." Thus far, nearly 20 women have spoken out against The Fighting Temptations star's actions, here's hoping that justice (on the case he plead guilty) can be served to his alleged victims and that the once-beloved actor can face the accountability he so rightly deserves.