"When I grew up, it was during a time when most people [in ads] weren't as dark as me," Samira Wiley tells Glamour in their February issue. "You definitely didn't see natural hair. It was very homogeneous."
Following her successes on not one, but two hit shows in the past six years (Orange Is the New Black and The Handmaid's Tale), Wiley has become one of our favorites to watch on the red carpet, pairing an incredible sense of style with a look that is always individualistically her.

"It felt like there was one thing you could be, maybe two things, and if you weren't those things, you couldn't really be in this industry," Wiley continued. "You couldn't be a spokesperson for what was sexy. You were told over and over again how much you weren't those things, just by ads being in your face. I don't know necessarily if I really have felt like I have seen myself represented before I was able to be the one representing myself."
Wiley recently made her debut as one of American Eagle's Aerie Role Models, joining Cleo Wade, Jameela Jamil, Aly Raisman, Busy Philipps, and more in the brand's inclusive, "real beauty"-focused campaign. As she tells Glamour, her participation affords her the opportunity to represent a type of beauty she wishes she'd seen growing up.
G/O Media may get a commission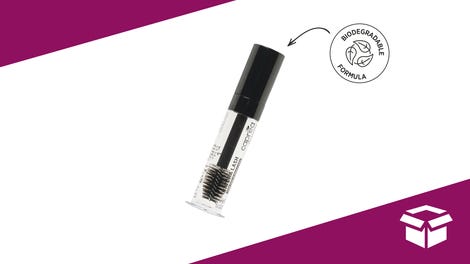 It's $8
20% Off Lash + Eyebrow Serum 2.0 - Caprea Beauty
"I can be that for someone else where I didn't have anyone be that for me," she said. "I'm thinking about things in a different way. I'm blessed to be able to have people looking up to me. So I'm wanting to use that for good. That's one of the main reasons I partnered with Aerie—I realized that this is the exact thing that I care about."
Wiley, a Juilliard graduate, has already been a role model to many who have watched not only her portrayals of openly gay characters—including the much-beloved Poussey on OITNB—but also her own public coming out, as she fell in love with and wed one of the show's writers, Lauren Morelli. Speaking on Poussey, whose death irrevocably rocked the OITNB fandom, she said:
To be able to give a character like that life was something that I never thought would be possible. I honestly don't know why I do what I do, and I can't take something from all of the characters that I play, but I think something that I love about Poussey and admire about her is that she's such an honest, amazing woman with amazing potential. And she's just a really damn good friend. I think I've become a better friend—I return more phone calls from playing Poussey.
Of course, Poussey's wardrobe was a series of prison jumpsuits, while in her current character of Moira on Handmaid's Tale, Wiley first donned the infamous red habit, and now, a series of utilitarian basics. So how has her own style evolved into the red carpet knockout we now know and love?
"I was definitely the kind of girl who went to high school every day with jeans and a T-shirt and my hair in a ponytail, and that was my thing," she said. "If you would have asked me 10 years ago, I would have told you that I don't like fashion—point blank, period. I didn't understand the kind of fashion that I liked because I wasn't seeing it everywhere."
These days, Wiley often relies on the always-inclusive Christian Siriano for her red carpet appearances—Siriano also designed her wedding dress. It's an ongoing collaboration she credits with expanding her understanding and appreciation of fashion.
"I don't even remember exactly how I first collaborated with Christian," Wiley said, "but I know it was just serendipitous because the way that he has made sure to include all different kinds of bodies and women, not just in terms of the clothes that he makes but also on his runway. It's awesome to see so many different ways a woman can be sexy."
Aerie's mission is similar. Having already disrupted the retail advertising sector with their decision to stop retouching their models, they've also made a concerted effort to include all types of beauty in their campaigns, including varying races, body types, sexual orientations and abilities. It's an inclusive approach Wiley personally responds to, because it pushes back against marginalization in fashion to reflect the world as it really is.
"Sometimes it can be powerful just to say, 'No, I'm not going change,'" Wiley said.
"That's it—plain and simple," she said of her choice to rep Aerie and, hopefully, help the brand continue to usher in a new era of inclusivity. "Because I didn't have that," she continues. "I want them to be instantly able to look at an image and say, 'Oh wow! There's someone like me. Someone who has a style like me.'"