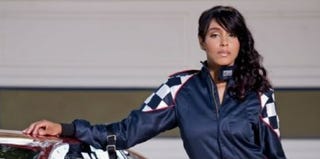 (The Root) — In March, professional race-car driver Nicole Lyons became the first African-American woman to finish a NASCAR Whelen Series race. "Most people don't even know that," she said at the NAACP's Leadership 500 Summit in Naples, Fla., on Friday. "But I bet we all know about Danica Patrick."
Lyons, who got her start in the male-dominated field of drag racing, told the group assembled for a panel discussion on "The 21st Century Black Woman" that "it has been a struggle from day 1 to be an African-American woman in the industry."
"I've heard everything from the most racist comments you could ever imagine … dealing with being the only black women in a sea of white men," she said. "But it's also very empowering, and I definitely hold my own. I'm successful to this day because I hold my own."
In addition to her racing career, Lyons is an award-winning engine builder who was a competitor on the Speed Channel's reality show Car Warriors in 2011. She says she employs five female employees at her engine-building and muscle-car restoration company, Cole Muscle Cars. 
"I know everything about these cars, so you can't come up and just talk to me any old way," she told the group. "At the end of the day, knowledge is what earns me respect."
Her response to what she says is persistent sexism and racism in the racing industry: "I don't let these guys punk me."
Lyons, who appeared on the panel via Skype, was joined by Ana Aponte-Curtis, the NAACP's vice president of events planning; Gwendolyn Boyd, the national president of Delta Sigma Theta Sorority; Higher Heights for America founder Glynda Carr; and Renau Daniels, the NAACP's director of corporate development. The discussion was moderated by motivational speaker and author Sil Lai Abrams. 
Jenée Desmond-Harris is The Root's staff writer. Follow her on Twitter.