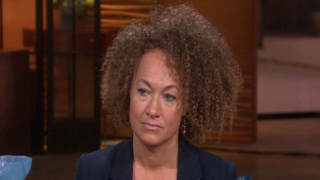 Our favorite race imposter, Rachel Dolezal, is back. And she reared her fuzzy head on Howard University's campus on Thursday.
Maya Cade, editor of A Tribe Called News, a Howard-based news site for millennial POCs, captured Dolezal with her baby in a snuggy on the yard, and another social media sleuth snapped the embattled fake black lady at favorite HU haunt Potbelly's on Georgia Avenue.

lmfao at this text I just got. howard university potbelly. pic.twitter.com/PjwNZzWOhS

— Lauren Chanel Allen (@MichelleHux) June 9, 2016

Cade tweeted that Dolezal was on campus to film a documentary about "race and identity in America," and New York magazine reports that Cade confirmed that the director of the doc is white.
Incidentally, Dolezal has had a contentious relationship with Howard, her alma mater (she received a Master of Fine Arts in Africana studies from the HBCU in 2002 as Rachel Moore).
Dolezal actually sued Howard. In her lawsuit, she alleged that she was denied scholarship funds and a teaching assistant position while she was an MFA student because she was white. During the proceedings, the university's lawyers asked Dolezal if she tried to mislead the university by posing as black in her admissions essay, where she had written about "the atrocities so many ancestors faced in America."
In 2005 a D.C. Court of Appeals denied Dolezal's claim, writing that she did not provide proof that she had been discriminated against on the basis of race.
No word on when the film will be out.