In a '90s kind of world, we were glad we had our girl Queen Latifah; and now, in 2019, she's letting us tap into that old feeling by announcing she will play Ursula in ABC's live concert version of The Little Mermaid.
At this time, I would like to take a brief moment to stan for Queen Latifah's career longevity. The Queen has been consistently booked, busy, and blessed with flawless hair since she stepped on the scene.
Not only is Latifah playing Ursula, but according to The Hollywood Reporter, Disney has gifted us with another non-black mermaid by casting Auli'i Cravalho, the actress who voiced Moana, as Ariel. Yes, that's the sound of middle America collectively losing their shit at the thought of another POC mermaid. And yes, them and their three teeth are shook.
G/O Media may get a commission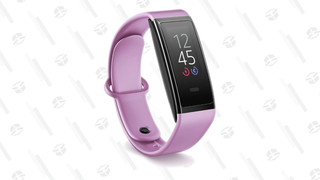 44% Off
Amazon Halo View Fitness Tracker
Disney also did right by our favorite crustacean by tapping Jamaican artist Shaggy to play the role of Sebastian. The casting of Shaggy means we won't have to be tortured by someone trying to put on their best Caribbean accent, and that alone is worth praise in my opinion.
Now, here's the thing, angelfish: Ursula was an iconic character and arguably the best villain in Disney's catalog. She had the look, the face and understood the importance of body language; all things Latifah represents. The only concern I have is Latifah's voice. She's a singer—and a pretty damn good one, but when I think of her voice, I think of smooth jazz; one of those 1920s, whisk you away and cuddle you in a summer breeze type of vocals. Ursula's classic "Poor Unfortunate Souls" needs to be sung in a way that steals a piece of my own damn voice with every lyric. Can Latifah deliver this, while simultaneously stealing my voice and raking me across the coals? We shall see.
ABC's performance of The Little Mermaid Live! is making its way to our screens on Nov. 5 and yes, it is already marked in my calendar.