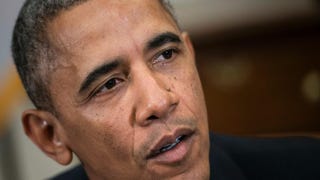 President Barack Obama's signature health care law is at risk of falling apart because of a mixture of blunders by his administration and hubris, or "his own inflated promises," the Associated Press reports.
To avoid a catastrophe and a total unraveling of the measure, he needs to make speedy progress on several fronts, including fixing cancellations, repairing technological glitches and reigniting confidence among supporters, the AP points out.
Working in his favor are demands for health care benefits and support from the insurance industry.
But he may face more challenges after working past the website enrollment issues, the AP says. Coming down the pipeline is a potential debate about the measure's impact on job-based insurance. The requirement that larger employers offer coverage is not scheduled to take effect until 2015.
"For now, odds still favor the Affordable Care Act's survival," the AP writes. "But after making it through the Supreme Court, a presidential election, numerous congressional repeal votes and a government shutdown, the law has yet to win broad acceptance."
Read more at the Associated Press News.