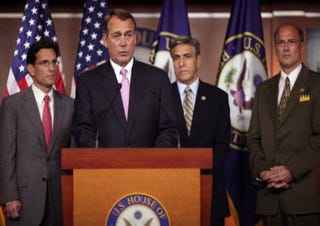 Here we go again.
The Associated Press is reporting that America is just a week away from a possible government shutdown, with lawmakers on Friday boxing themselves into a new budget gridlock.
With Congress' approval ratings already at an all-time low, a tit-for-tat over disaster aid left Republicans and Democrats — and the House and Senate — in a faceoff that's all too familiar to millions of Americans. Deep partisan disputes pushed the government to the edge of a partial shutdown in April, and to the brink of a debt ceiling crisis in late July.
On Friday, the Democratic-controlled Senate blocked a Republican House bill that would provide stopgap federal spending, plus aid for people battered by hurricanes, tornadoes and other natural disasters. The legislation also calls for $1.6 billion in spending cuts to help defray the disaster costs.
Democrats say it's unprecedented and unfair to require spending cuts to accompany badly needed emergency aid. They are especially unhappy that the GOP measure would tap clean-energy programs credited with creating jobs.
Republicans say that with a $14 trillion-plus national debt, business-as-usual spending is no longer acceptable.
Source: the Associated Press.
Clearly Congress did not learn this lesson from the rancorous debt-ceiling negotiations: that voters strongly disapprove of their inability to negotiate with each other. If they believe that political infighting and posturing will win back voter approval, they are using the wrong playbook. They should stop the petty bickering and begin to work in the best interest of the country, which would be to avoid another embarrassing crisis. But that would be too much like right.
Read more at the Huffington Post.
In other news: GOP Debates: Time to Call Off the Clowns.