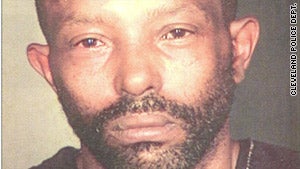 Anthony Sowell, a Cleveland man who had already served fifteen years for raping and assaulting a woman, apparently used his freedom to kill at least five more women and bury them about his home and property.
He was arrested Saturday after police—who were there to serve him an arrest and search warrant—discovered the bodies of five decomposing women in his home and one woman in the backyard. All of the victims were African-American. From CNN:
Officers serving the warrants Thursday discovered the badly decomposed remains of two bodies on the third floor of the house, he added. A subsequent search revealed what appeared to be a freshly dug grave under the stairs in the basement. On Friday, investigators returned to the house, dug up the grave and found a third body, Stacho said.

A further search of the house and property found two more bodies in a crawl space and a sixth body in a shallow grave outside the home.

Five different burial methods were used on the victims, and the bodies were in varying states of decomposition, said Miller, which made it difficult to determine the ages of the victims.
…Yeah; he should get a fair trial—if he's crazy enough to do such a thing—but let's be honest: Ohio should save itself the aggravation and just find a cozy spot under the jail where he can contemplate whatever people like that contemplate for the rest of his born days.