Although Los Angeles Police Officer Sharlton Wampler claims that he was in a life-and-death scuffle for his service weapon with Ezell Ford, the Los Angeles Police Commission rejected Police Chief Charlie Beck's conclusions that the ultimately fatal shooting of the young man was justified. The commission also suggested that Wampler's actions caused the deadly encounter, the Los Angeles Times reports.
Last summer Wampler insisted that he was fearful that Ford, who was mentally ill, would grab his weapon, so Wampler pulled out a backup gun from under his uniform and fired one fatal shot into the young man's back.
The Police Commission is arguing that Wampler's use of deadly force violated Los Angeles Police Department policy—even though he "may have been in a fight for his life," according to the Times—because he had no reason to stop and detain the young man to begin with. His further handling of the confrontation was so faulty that it led to the fatal shooting.
"The decision marked a significant departure for the commission, which for decades has looked only at whether an officer faced a threat at the moment deadly force was used," according to the Times. The commission came to its ruling based on "the totality of the circumstances, and not just the moment in which the force was used," the news site notes. This is the first time the commission has made a ruling based on a change in policy on shootings last year, which encourages the panel to look at the broader picture rather than an isolated incident.
Wampler's partner, Antonio Villegas, was found less culpable by the commission. Although it did not agree with Villegas' decision to draw his gun early on in the encounter, the panel ruled that he was in the right to fire at Ford in an attempt to protect his partner.
G/O Media may get a commission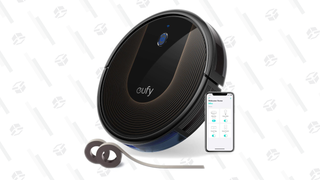 48% Off
Eufy BoostIQ RoboVac
The commission has officially ruled on the issue, the Times notes, but it is still up to the police chief to decide whether there will be any disciplinary actions taken against the two officers. Beck's decision will not be made public because it is protected by privacy rights under state law. 
"I respect the process and the decision made in this matter," Beck said in a statement, according to the report.
Read more at the Los Angeles Times.