A video from December has surfaced showing former NFL player Desmond Marrow being assaulted by Henry County police officers in McDonough, Ga., after an alleged road rage incident.
According to court documents from the lawyer for the Atlanta chapter of Black Lives Matter, which is representing Marrow, the former athlete says a white man threw a cup of coffee at his car while he was driving on Interstate 75. Marrow proceeded to chase the car to find out why the coffee was thrown, and they ended up in the parking lot of a local Target.
Marrow wrote about the incident on Facebook:
I Only Had My Cell Phone in my possession & they claimed to be scared for their lives. I had No type of weapon in my possession, I was arrested for having a Gun that turned out to be my Cell Phone . During the arrest the police knocked my teeth out, slammed me on my head and choked me out until I was unconscious. In addition I suffered a shoulder strain and a concussion along with the heartache of my Wife leaving me during this Very Hard time for my short comings and careless actions. This has affected me mentally and impacted my life in a way I can't even humanly describe . This isn't a cry for sympathy, I just need it to be known . . . My cry is for JUSTICE
In the video, you can hear Marrow stating that he's not fighting back, and the person capturing the video via cellphone is heard saying, "This is unbelievable." You can also see Marrow eventually going limp and looking as if he has lost consciousness.
In a police report obtained by 11 Alive, a police officer allegedly witnessed Marrow aggressively following the car into the parking lot. In the lot, Marrow allegedly argued with the driver and passenger of the car he was following. A witness then told an officer they heard Marrow threaten to shoot one of the men, but when asked if he had a gun, Marrow said no. The report goes on to state that Marrow became uncooperative, and that's when the struggle started.
G/O Media may get a commission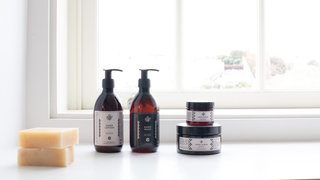 Exfoliate and Hydrate
The Handmade Soap Company
Marrow was charged with reckless and aggressive driving, as well as making terroristic threats. The Root has reached out to the Atlanta chapter of Black Lives Matter and Marrow for comment. Henry County police say they plan to release a statement Friday.