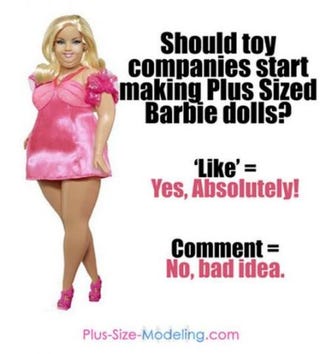 Should Barbie come in plus sizes? A Facebook page for Plus Size Modeling is asking just that. The page, which features a plus-sized Barbie with a triple chin, asks followers to "like" the image if they think toy companies should make the dolls and to comment if not.
As of midday Sunday, more than 41,000 people had "liked" the image, and more than 5,400 had left comments.
Some commenters were outraged.
"This is not what plus size women looks like," one woman said. "This doll is a terrible impression of a plus size woman."
Others were more supportive.
"Not every big girl is unfit or unhealthy!" another person said. "I'm sick of people saying someone is unhealthy because of their size!!! An average size Barbie would be awesome and would probably boost confidence to millions of little girls everywhere!!!!! Being yourself is one of the most beautiful things!!!"
Some liked the idea, but expressed concern about the Facebook image.
"Why not have a realistically proportioned Barbie that promotes healthy diet and exercise?" one commenter wrote.
What do you think? Let us know in the comments section below.