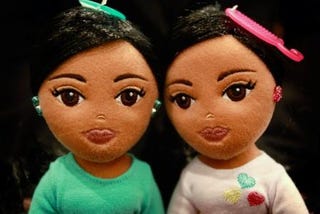 Finally, the Ty company (of Beanie Babies" fame) yanked the "Marvelous Malia" and "Sweet Sasha" children's dolls that had been doing a brisk business since Barack Obama, the father of the namesakes was sworn in as President. Michelle Obama reportedly led the White House crusade against the image appropriation. The Buzz is all for dolls facilitating cross-racial affections (an Oklahoman 'tween going gaga over little black dolls is a sight we thought we'd never see), but did Michelle have a point?
Maybe. Erin Aubry Kaplan has a provocative look at the role of black hair and beauty in the new White House, and suggests that while Michelle Obama will rarely be seen without straightened "Sunday hair", it's the daughters who can break the mold. (The Root has weighed in on this debate as well.)
Kaplan writes: "in the girls' everyday lives, they literally let their hair down with braids and cornrows and puffs and whatever else black girls wear. Now that they're no longer groomed for the Corn Belt voters on the campaign trail, I see the Obama girls casually affirming the black mainstream in a way perhaps their parents can't yet."
But isn't that the same kind of usage Michelle reportedly shuns? Perhaps its unavoidable—but serving as mini-ambassadors for the diversity of black hair care is a heavy load to carry for two kids not yet in high school.

A spokeswoman for for first lady said recently: "Our hope is that everybody will recognize that these are two young girls and [they deserve] privacy. And helping give them as normal a life as possible is not just the job of the media." Then again, isn't that Michelle and the girls beaming on this week's cover of US Weekly? The POTUS seemed to relish talking about the "labradoodle" that the girls were promised after the election. And hasn't the J. Crew brand been given repeated, direct promotion by the Obama women? Contradictions aside, it's up to the parents how and where Malia and Sasha are publicly discussed. Though, as Wonkette managing editor Ken Layne recently noted: "If they go all Jenna on D.C. in a few years…they are fair game."