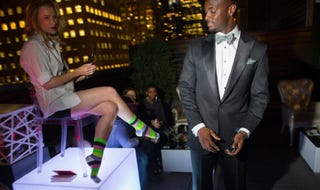 NFL wide receiver Plaxico Burress is doing his best to not be part of that staggering Sports Illustrated statistic which states that 78% of NFL players are bankrupt or in severe financial distress just two years after retirement. The 35-year-old Pittsburgh Steeler is diversifying his income stream by launching a new collection of luxury socks. A private event held at Manhattan's XVI Lounge last Friday served as the debut for the line.
When asked why he chose to create a luxury sock line, Burress told BlackEnterprise.com, "A lot of guys out here have clothing lines and things like that, but I wanted to do something different and something that I'm passionate about.  This doesn't even feel like work to me because it's something I love to do."
Burress elaborated on how he selects his socks.
"I love to be colorful and outspoken, so that's how my socks are too. I don't care if they match my outfit. I wear socks everyday that match how I'm feeling.
Read More: http://www.blackenterprise.com/lifestyle/plaxico-burress-unveils-new-luxury-sock-line/
BlackEnterprise.com is the premier business news and investment resource online for African American business owners and aspiring entrepreneurs