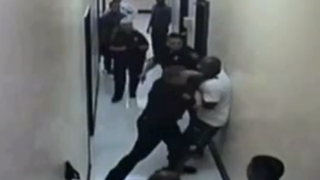 On Monday, law-enforcement officials weighed in on an arrest in August that was captured on video and said that the force Pittsburgh police used against a man staying in a halfway house was "justified," WPXI reports.
Lonnie Jenkins was staying at the Renewal Halfway House in Pittsburgh after he was released from prison on drug charges. The video shows four police officers approaching Jenkins in a hallway, and then two cops push him against the wall and begin to beat him several times with a baton. Scott Wescott, Jenkins' attorney, believes the officers' actions were excessive and unnecessary.
"It's an assault by these officers of the law, and it's disgusting," Wescott said.
Pittsburgh police, on the other hand, said that Jenkins wouldn't comply with the officers' orders. They say Jenkins clenched his fists when officers approached him, WPXI reports.
"There are times when officers have to use force to take people into custody, and there are times, unfortunately, when it doesn't look good, but it's the nature of it sometimes," Eric Holmes, Pittsburgh's police commander, said.
The CEO of the halfway house echoed those sentiments, saying that Jenkins had refused to be searched for drugs: "We attempted to work with the guy. We attempted to let him cooperate and go with police, and he resisted that," said Doug Williams.
Still, Wescott maintains that the video shows that his client was in a "defensive posture" at the time of the arrest. According to Wescott, Jenkins is planning to file a civil lawsuit against the officers.
Read more at WPXI.