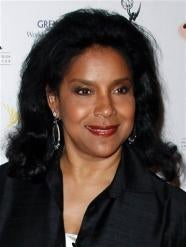 Phylicia Rashad is returning to Broadway.   She will star as the matriarch in Tracy Lett's award-winning August:  Osage County.   August took Broadway by storm last year with five Tony Awards and the Pulitzer Prize.  August is a three-hour drama about a hyper-dysfunctional white family living in the heart of Oklahoma.  From pill-popping, verbal abuse, and hints of incest, August manages to create what may appear to be tabloid Americana into one of the funniest, most engrossing plays that have hit the American stage in a long LONG time.
So curtains rise on Phylicia Rashad:  amazing actress, incredibly gifted artist, and who is also African-American.  The crazy?  Well, August is not one of those "anybody can do the part" plays.  It's not Lion King or Wicked.  It's a play that gets under the belly of white Americana and cuts it open.  So Rashad's portrayal as the matriarch to this "white trash" clan will be both exciting and curious.
Hey, Rashad will bring her natural ferocity and delicious artistry to the foul-mouthed matriarch of August, no doubt.  But I do wonder if casting her in this production screams "gimmick".  Now if they plan to re-cast the daughters with black or "bi-racial" actors then that's progress.  I just wonder if replacing a white matriarch with a black one may be too challenging for an audience.   But wait!  Maybe that's the point.  The producers are testing whether audiences will accept black leadership without considering the black.
Keith Josef Adkins is an award-winning playwright, screenwriter and social commentator.