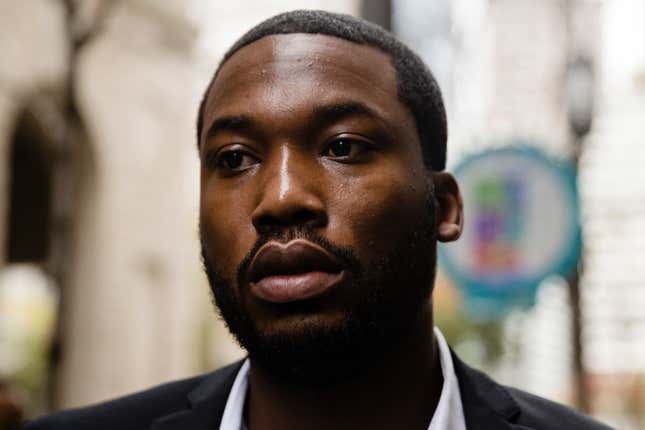 Meek Mill's legal woes have not only been lengthy, but have provided a textbook example of just how deeply flawed our criminal justice system is. But after years of bad news, the Maybach Music signee might finally be seeing the light at the end of the tunnel.

My Hip-Hop Story: Cedric The Entertainer On Jay-Z and His Indisputable Role In Shaping The Genre's Culture
USA Today reports that on Wednesday, Philadelphia District Attorney Larry Krasner filed paperwork calling for a new judge and trial in his ongoing probation violation case. In doing so, Krasner said that Common Pleas Court Judge Genece Brinkley—who sentenced the "Going Bad" rapper—has "abused her discretion" and questioned her "impartiality."
"We are very pleased that the Philadelphia District Attorney's office has confirmed to the Superior Court that Meek is entitled to have his conviction vacated," Meek Mill's lawyer, Jordan Siev, told ABC News. "The brief is also significant in that it marks the first time the DA has publicly outlined in writing that it supports Judge Brinkley's recusal based on her 'appearance of partiality' and 'public perception of unfairness and bias.'"
Mill took to Twitter to celebrate this development.
"Doesn't mean I win ... but that is great news!!!!" he tweeted on Wednesday.
The 32-year-old recording artist has been very vocal about his issues with Brinkley throughout the years, even alleging she once tried to coerce him into leaving his management company, Roc Nation, to sign with a friend of hers. He also alleged that she requested that he remake a Boyz II Men song and shout her out.
"She's enamored with him," Joe Tacopina, one of Meek Kill's attorneys, once told Billboard. "She showed up at his community service for the homeless people. She showed up and sat at the table. She's a judge. You could pull any judge in America and ask them how many times they've showed up at a community service for a probation and the answer is zero."
Mill has made criminal justice reform his personal mission since being released from prison in April of last year. So hopefully, this latest development brings him one step closer to leaving his legal woes in the past.