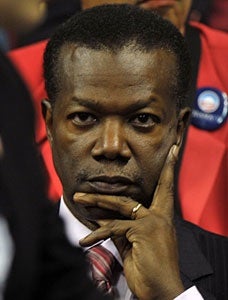 Prince George's County Executive Jack B. Johnson and his wife, Leslie, have been charged with tampering with a witness in connection with a destroying evidence in a federal investigation. Each offense carries a maximum sentence of 20 years. Johnson, who manages the suburban Maryland county adjoining Washington, D.C., has been under scrutiny for county-development deals worth millions of dollars that have gone to people with ties to the county executive. Several of those people had little or no development experience or were given no-bid contracts, according to government records.
According to an affidavit, Johnson ordered his wife over the phone to tear up a check for $100,000 from an unnamed contractor and flush it down the toilet. She asked if she should hide cash and he instructed her to "put it in her bra and walk out or something." FBI agents entered the home soon after and discovered $79,600 in her underwear, according to the document. She was recently elected District 6 council member.
The Johnsons were taken into custody as a plumber arrived to "check the toilet to make sure there's nothing in them." Why would a power couple risk so much for what will certainly turn out to be very little? This story is developing.
Read more at the Washington Post. [Updated link]