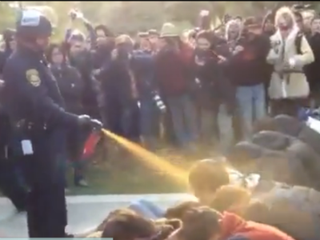 The University of California, Davis, has placed its police chief and two officers on administrative leave in response to outrage over a video in which officers sprayed students with pepper spray as they sat cross-legged in a row on the school's quad. The video became a symbol of police brutality toward Occupy Wall Street activists and gave the movement new energy when it went viral over the weekend.
Michael Moore, an unofficial spokesperson for the movement, called the incident an "iconic moment in Occupy Wall Street history" and also said, "The images have resonated around the world in the same way the lone man standing in front of the tanks at Tiananmen Square resonated."
Watch the videos of the incident and Moore's comments here.
Read more at Slate and Mediaite.
In other news: Does This Doll Have a Potty Mouth?