A Pittsburgh man was sentenced to life in prison without the possibility of parole Monday afternoon after being found guilty of killing his fiancee's 8-year-old son, just because the child did not clean his room.
According to the Pittsburgh Post-Gazette, 39-year-old Orlando Williams showed no reaction as he was taken from the courtroom after his conviction and sentencing was announced.
Authorities say that Williams had been drinking on June 20, 2016, when he tripped over a laundry basket in little JonMarquis Stepich's room. Williams picked up the child and tried to slam him onto the edge of his bed but missed, and the boy landed on the floor, the New York Post reports.
At around 6 that morning, Williams woke JonMarquis' mother, telling her that they needed to take the boy—who was unconscious, was having trouble breathing and had vomited—to the hospital.
However, two doctors testified that JonMarquis had a subdural hemorrhage in his brain, which was caused from his head being repeatedly struck on a flat surface, the Post-Gazette notes.
G/O Media may get a commission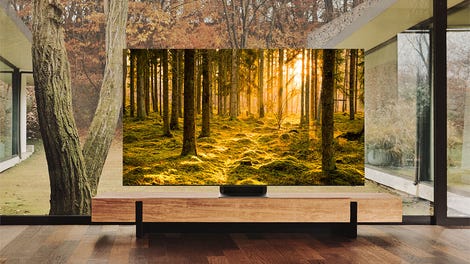 Up to 40% off
Samsung Smart TVs
Allegheny County Common Pleas Judge Donna Jo McDaniel also noted that other bruises were found on the child's body, including a bruise on his chest that prosecutors say Williams inflicted after he punched the child for not taking the trash out the back door instead of the front. McDaniel said that these bruises demonstrated continual abusive behavior.
In making her guilty finding in the nonjury trial, McDaniel also found Williams negligent regarding calling for medical help after he realized JonMarquis needed attention, displaying malice and a specific intent to kill.
Williams was also found guilty of endangering the welfare of a child and reckless endangerment.
JonMarquis' mother, Aliehsa Lininger, is also facing charges of endangering the welfare of children in the case, according to the Post-Gazette. However, she testified against Williams during the trial last week, saying that Williams was abusive to her sons and often punched them and beat them with belts and cords. Lininger said that she and the children were terrified of Williams.
"His mom feels very relieved and safe now," Lininger's sister, Lauren Anthony, who attended the trial, told the Post-Gazette.
"My client is very satisfied with the verdict. It was very tragic what happened. Justice was definitely served today in the courtroom," Dan DeMarco, an attorney representing Lininger, added.
Lininger is scheduled to go to trial Dec. 13.
Read more at the Pittsburgh Post-Gazette and the New York Post.