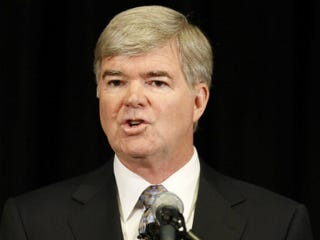 (The Root) — In penalizing Penn State for its role in the child sex-abuse case involving Jerry Sandusky, NCAA President Mark Emmert sent a message to other schools whose approach to sports might be off-balance. While most cases involve infractions such as payments to athletes, bogus class work or recruiting violations, the underlying theme is the same: multimillion-dollar athletic programs operating outside the boundaries.
"One of the grave dangers stemming from our love of sports is that the sports themselves can become 'too big to fail,' or even too big to challenge," Emmert said Monday in announcing Penn State's sanctions. "The result can be an erosion of academic values that are replaced by the value of hero worship and winning at all costs. All involved in intercollegiate athletics must be watchful that programs and individuals do not overwhelm the values of higher education."
Later on Monday, the Buffalo Wild Wings signed a new deal to take over naming rights for the Insight Bowl. Earlier this month, ESPN agreed to pay an average of $80 million a year for the Rose Bowl's broadcast rights, a 167 percent jump from the $30 million the network currently pays. The whopping increase led to speculation that media rights for college football's impending playoff-package championship could go as high as $600 million.
So Emmert's calls for perspective are a bit tardy. Besides, there's been cheating in college sports for as long as schools have played games, and there hasn't been a penalty yet that ended it.
That said, Emmert made history Monday in disciplining Penn State, a move that some folks didn't believe was within the NCAA's purview because of the nature of the offense. The organization's jurisdiction was laid out clearly, however, during the press conference, with several references to its constitution and bylaws.
There's plenty of disagreement about whether Emmert was correct to hit Penn State with a $60 million fine, a ban on postseason appearances and a significant reduction in scholarships. There's also widespread sentiment that Emmert didn't go far enough, that he should have levied the so-called death penalty and suspended the football program.
Whichever side one falls on, the bigger question going forward is how the penalties affect other schools. Emmert seems intent on reforming college sports, a mission he's been on for several months. But as broadcast-rights fees, coaches' salaries and athletic-department budgets continue to increase, significant culture change becomes more and more difficult.
"I certainly hope [Penn State] is a cautionary tale to all of us that we need to keep our eye on our values," Emmert told the New York Times. "We all have to remember that we can't let our love of the games get ahead of the core values, and we know that happens often. This is a painful, painful reminder that awful things can happen when that occurs."
It's the most heinous reminder we've ever seen. But don't be surprised if the message isn't received. Money talks, but dollar signs blind.
Deron Snyder's Loose Ball column appears regularly on The Root. Follow him on Twitter and reach him at BlackDoor Ventures, Inc.