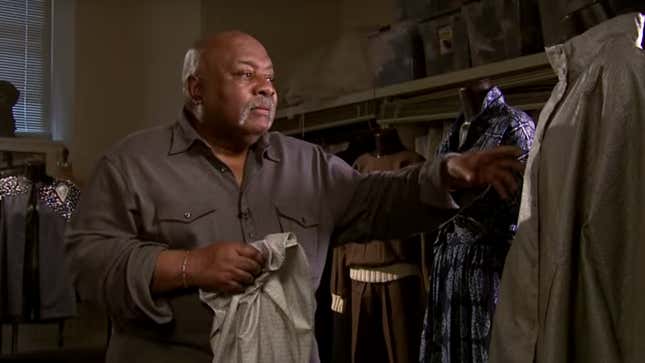 Here at The Glow Up, we regularly celebrate the current trailblazers in the fashion industry, but less often do we honor the dwindling number of pioneers who broke ground for those trails to be blazed. One of those groundbreakers was designer Arthur McGee, who we recently learned died on July 1 in New York City, following a long illness. The revered designer was 86.
America's Got Talent Host, Terry Crews, Shows Full Gratitude For Writers On Strike
If you're unfamiliar with McGee, here's a brief primer: As reported by the Hollywood Reporter, he was considered "the grandfather of fashion of designers of color," both due to his own impeccable and inspiring work, and for the mentorship he provided the next generation of black design talents, including acclaimed designer Willi Smith, Dr. Aziza Braithwaite Bey (founder of the popular Elena Braith label of the 1960s and '70s), and luxury designer and milliner B Michael.
And yet, despite his influence upon numerous black designers, McGee was clear that black talent shouldn't be marginalized.
"We are not 'black' designers but American designers, the way Bill Blass is an American designer," he told Newsweek in 1992 [h/t the New York Times]. "As soon as you categorize us, you can erase us."
A native of Detroit, McGee's interest and proficiency in design were due to his dressmaker mother, who he said "could make anything." According to black fashion history blog 28 Days of Fashion, McGee entered the Traphagen School of Design in New York City at age 18 on a scholarship won with his original designs, and would go on to study apparel design and millinery at FIT, building on hatmaking skills he'd honed creating headpieces to coordinate with his mother's creations. As evidence of his immense talent, while still at FIT, McGee began working for legendary couturier Charles James.
"I stayed in school for maybe 6 months, because they said to me, 'there's no jobs for a black designer,'" he'd tell the Metropolitan Museum of Art in 2009, when the museum's Costume Institute rightly honored him with a retrospective and luncheon. Undeterred, McGee traveled downtown to Greenwich Village, where within a week, several Broadway actresses bought clothing from him, quickly making him a sought-after designer for both entertainment's elite and society doyennes.
Despite FIT's reported discouragement, McGee is believed to have quietly made history in 1957, when he became the first African American to run the design room of a major Seventh Avenue apparel company, Bobbie Brooks.
"When I started, I was working in backrooms designing whole collections with no credit," said McGee, according to 28 Days. And as he told the Met's cameras, it wasn't difficult to fly under the radar, as he was rarely presumed to be in charge. "When I'd go to look for lines of fabric, I'd go to the fabric company, and they'd say, 'Well, where's the designer? They'd walk right by me," McGee recalled. "And I'd say, 'It's me.'"
McGee would eventually open his own shop on St. Mark's Place in New York City, cementing his reputation by selling exquisitely designed, elegant silhouettes "with a twist" to luxury department stores and loyal celebrity clientele like Lena Horne, Josephine Premice, Cicely Tyson, and Stevie Wonder. That twist? Often, it was the incorporation of African elements and fabrics in his designs. "Like a perfect jazz riff, it was a spontaneous, unforced expression of its parts: the relaxed vocabulary of American sportswear animated by the aesthetics of African tradition," Harold Koda, former curator at the Costume Institute, told the Times, referencing one of McGee's mudcloth-embellished designs.
And yet, the designer remained humble, steadily but subtly making his mark in an industry never intended to include designers who looked like him.
"Arthur was not a firebrand," said Koda. "Instead his confidence in his own talents was like water seeping into the hard rock of racism—effortless seeming, but effective in breaking through."
McGee was also instrumental in helping other designers break through in the industry. "He mentored working designers and fashion students nationally and internationally," Dr. Bey told the Times. "He taught me important skills of the trade and how to navigate in a fairly inhospitable industry."
"I was the only one around; everyone came to my studio," McGee recalled while being interviewed by The Met. "I used to go at night; I used to help people, all the people around the city who wanted to be designers."
In a message shared with The Glow Up, designer B Michael, himself a pioneer, paid tribute to mentor and friend McGee, whom he called "the dean of fashion."
"I am standing on your shoulders, it was an honor to call you friend," B Michael wrote. "Thank you for your invaluable contribution to the tapestry of American fashion."
In related news, McGee protégé Willi Smith is garnering his first retrospective in March of 2020 at New York City's Cooper Hewitt Museum, reports Vogue. Known for his trendsetting WilliWear label in the late 1970s and early '80s, Smith, who died in 1987 at age 39, should be considered one of the primary predecessors of contemporary streetwear; fittingly, his upcoming 200-piece multimedia exhibit, including collaborations with artist Keith Haring and choreographer Bill T. Jones, is titled Willi Smith: Street Couture, referencing the designer's groundbreaking 1983 collection.
Like his mentor McGee, Smith's brilliance was often unsung during his too-brief lifetime, but one can trace a clear throughline between these two design pioneers to the rise of world-renowned talents like Virgil Abloh, who have forced the fashion world to reconsider presumptions about race and class, creating legacies that transcend a single garment or collection.
"Willi Smith cared about style over status," Cooper Hewitt's curator of contemporary design Alexandra Cunningham Cameron, told Vogue. "Clothing was a tool [he used] to disseminate ideas about personal freedoms beyond class, beyond gender, beyond race, while still having fun."
Perhaps that transcendence was a lesson Smith learned in part from McGee, about whom Dr. Bey told the Times, "His classic designs, whether created in the '60s, '70s, '80s or '90s, could be worn today."