On July 4, 2018, amid the cursory cookouts, cheap beer and sunburns, Patricia Okoumou climbed the Statue of Liberty on Liberty Island, N.Y., to protest the treatment of immigrant children by the Trump administration.

The 44-year-old personal trainer, herself an immigrant from the Congo, had taken part in a protest earlier that day with Rise and Resist at the base of the statue. But as Okoumou told the Guardian in an exclusive interview, she had other plans.
"I had thought, 'It's the Statue of Liberty, it's the Fourth of July and there are children in cages, we are doing a protest but I want to send an even stronger message and this is the perfect day for it,'" Okoumou said. "All of those elements together were necessary to give me the courage."
She never told the rest of her group her plan, she says, but brought her passport with her to use as ID in preparation for her arrest. As she scaled the world-renowned statue and settled into the folds of its robes, sparking a stand-off with police attempting to get her down, Okoumou remembers thinking, "Are they going to shoot me?'"
And Okoumou had reason to fear. She knew all too well how disposable the lives of immigrants were to American authorities and told police so as they beckoned her to come down.
G/O Media may get a commission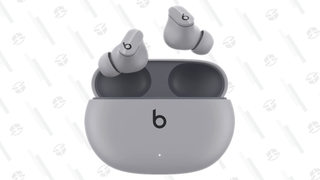 From The Guardian:
"I said 'Don't come up.' [The policeman] said 'I care about you.' I said, 'No, you don't, you could shoot me the way you shot Claudia Gomez and killed the trans woman,'" she said, referring to Gomez, a 20-year-old Guatemalan woman shot by the border patrol in Texas last month, and Roxana Hernández, from Honduras, who died in Ice custody in May after reportedly spending five days in a form of chilled detention dubbed the ice box.

As the Guardian writes, Okoumou "feared she would be shot or tranquilized," but nevertheless told the officers that her life "doesn't matter to me now."
"What matters to me is that in a democracy we are holding children in cages," Okoumou said, referring to the U.S. policy of separating children from their families at the southern border and locking them in separate, children-only detention camps. Photos of these camps shows hundreds of migrants children alongside each other in cages.
While the Trump administration reversed its policy of family separation, they're now faced with the task of reuniting more than 2,000 children with their families. A judge on Friday turned down the administration's request for a blanket deadline extension on family reunification.
"The government must reunite them," the judge said, according to Time. "It must comply with the time frame unless there is an articulable reason."
Okoumou told the Guardian that she "[doesn't] sleep well at night thinking about those babies crying for their parents."
"It's impeachable—you don't talk about human beings as 'an infestation' as he has done," she added.
After her powerful protest on July 4, Okoumou was charged in a federal court Thursday with three misdemeanors.
She confessed to the Guardian that at one point during her tense standoff with police, she took a quick nap:
"I was thinking of Lady Liberty above me, you are so huge, you have always been a symbol of welcome to people arriving in America and right now, for me under this sandal, she is a shelter."
That night in federal custody, Okoumou says she couldn't sleep. But while rest eluded her, she felt at peace with what she had done.
"I felt peaceful, that I was with those children in spirit. I could feel their isolation and their cries being answered only by four walls," she said.