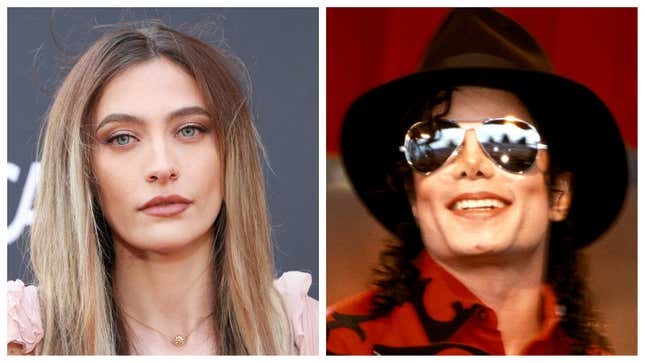 On Tuesday, the late King of Pop Michael Jackson would have turned 65. And on a day that would've have been somewhat bittersweet for the family—in particular his children Paris, Prince and Bigi (formerly known as Blanket)—it proved to be more bitter thanks to a handful of fans who decided to harass Paris over how she chose to commemorate the special day.
America's Funniest Home Videos' Alfonso Ribeiro Plays That's So Random
In a video posted to Instagram, the 25-year-old took the time to address the negativity, clarifying that when her father was alive—he didn't want anyone celebrating his birthday. In fact, Paris revealed that the Thriller artist hated the acknowledgment so much, he would often not tell anyone when his birthday was, so he could shirk any form of celebrations that they may have wanted to do.
"That being said, social media is apparently how people express their love and affection these days. And if you don't wish someone a happy birthday via social media, it apparently means that you don't love them, you don't care about them," Paris continued. "There have been times where I don't post anything for my dad's birthday and people lose their fucking minds. They tell me to kill myself and they're basically measuring my love for my own father based off of what I post on Instagram. So, I made you guys a little video and I hope you enjoy it."
The video then cuts to a clip of Paris performing at a show where she tells the crowd its her dad's birthday and acknowledges his musical contributions in the world back then that made it possible for her to chart her own path today. Paris then reappears and tells viewers that if they want to celebrate her dad's birthday, it would be better spent raising awareness for causes he cared about such as climate change, the environment, and animal rights activism.

"Please don't use a man you have never met as an excuse to abuse, manipulate, and harass his daughter (who you also have never met). L O V E," she captioned in the post. Truer words have never been spoken.
It's beyond time for fans to stop letting their pseudo relationships with celebrities get to their heads to where they feel so entitled and authoritative to tell someone else—someone who actually knows said celeb—what they should do to acknowledge them.