A young McKeesport, Pa., mother is accused of killing her toddler son and then sending disturbing video footage and texts to the child's father, CBS Pittsburgh reports. 
According to police, upon responding to a call at the Hi View Gardens housing complex at around 11 p.m. Tuesday, authorities found the unresponsive 17-month-old boy, who was pronounced dead at a local hospital.
Police arrested the child's mother, 21-year-old Christian Clark, accusing her of being responsible for his death.
A criminal complaint indicates that Clark was having a fight with the boy's father via text message and had accused him of cheating on her. Clark allegedly sent a video of the child's lifeless body to the father and admitted smothering the child on an air mattress.
According to the report, Clark also attempted to smother her 2-year-old daughter, but the child survived.
G/O Media may get a commission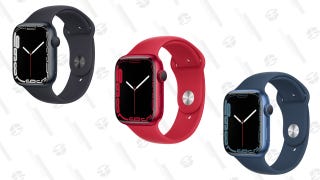 Up To $45 Off
Apple Watch Series 7
In one message that followed the disturbing video, Clark allegedly wrote, "First of all she is clearly fine, because watch, see she is not dead. Him on the other hand, he doesn't budge. So you might want to call the ambulance."
Before sending the video, authorities say, Clark sent a message saying, "They'll blame you for leaving them with me lol they talk about how I have issues & needed help & ya son wont even be remembered now that is actually sad."
The next message that followed read, "I'm sure it'll hurt me once I'm sitting in jail."
Another read, "& you got all the evidence you need so I can't even say he suffocated in his sleep or say idk what happened…"
Clark is facing criminal homicide and attempted-homicide charges and was being held at Allegheny County Jail.
Read more at CBS Pittsburgh.