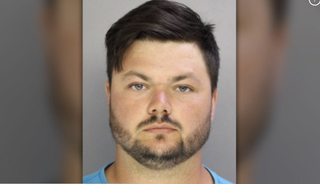 After a two-day manhunt, a 28-year-old Pennsylvania man was arrested Sunday and charged with murder in the shooting death of 18-year-old Bianca Roberson.

David Desper of Trainer, Pa., turned himself in at 2 a.m. and was arraigned on first-degree murder and other charges, according to WPVI-TV.
In what is being described as a "road rage" incident, Roberson, who was planning to attend Jacksonville University in Florida this fall, was shot in the head Wednesday in West Goshen Township, Pa., after she tried to merge into a lane the same time as Desper, who was driving a red pickup truck.

Roberson died instantly, and police found her car and body in a ditch on the side of the road.
Desper reportedly had a permit for the .40-caliber semi-automatic handgun used in the killing, which he bought in November 2015.
Chester County, Pa., District Attorney Thomas Hogan said Sunday that the murder was not racially motivated. "This appears to be a savage, senseless and brutal act from one human being to another human being."
Read more at WPVI-TV.