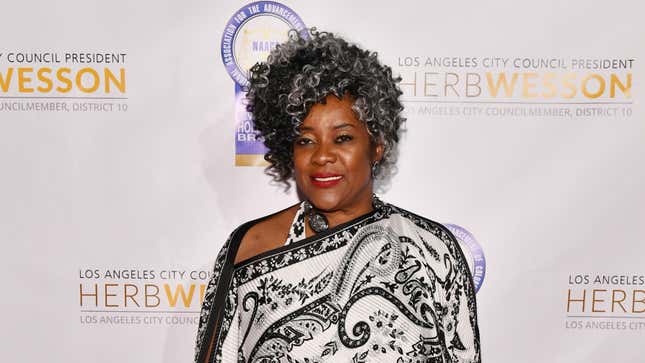 Whenever I sum up Loretta Devine's highly respected, dense and ongoing career, I cite her as "Everybody's Mama." No one can portray a matriarch quite like Ms. Devine can. Don't believe me? Clock her IMDb page.
Here's How Medicaid Expansion Can Play A Role In Black Maternal Healthcare
Next up, she'll be portraying the queen of the strip club industry in a new drama based on Katori Hall's play, Pussy Valley. The upcoming project currently has the working title of P-Valley. Hall—who will serve as the showrunner—is set to executive produce along with Chernin Entertainment.

Devine will portray a blind woman who is acutely aware of the South's injustices, known as the "Grandmuva" of Uncle Clifford, who is described as "the manager of the club who is saving up for a sex change operation, he can stomp the catwalk in five-inch heels better than most women but also possesses the physical build of a linebacker," according to the original play's page on Backstage.com).

As Deadline reports:

Created by Hall, who also showruns, the drama is set down deep in the Mississippi Delta, where lies an oasis of grit and glitter in a rough patch of human existence where beauty can be hard to find. The Southern-fried hourlong drama tells the kaleidoscopic story of a little-strip-club-that-could and the big characters who come through its doors: the hopeful, the lost, the broken, the ballers, the beautiful, and the damned. Trap music meets film noir in this lyrical and atmospheric series that dares to ask what happens when small-town folk dream beyond the boundaries of the Piggly Wiggly and the pawn shop.
First off, let's talk about the description "trap music meets film noir." I am already sold on that, alone. You mean to tell me we're basically going to get some Double Indemnity mixed with 2 Chainz?! Sign me up. Add in the flamboyant star power of Devine, and we're in for some good TV.

The Emmy Award-winning Devine will join a cast including Brandee Evans, Nicco Annan, Elarica Johnson, Shannon Thorton, Skyler Joy, Alphonse Nicholson and Parker Sawyers. P-Valley will be developed for Starz.