The 84th Annual Academy Awards on Sunday night were turning into a rather predictable affair until one stunning moment near the end.
That moment came when Meryl Streep beat Viola Davis for Best Actress. Davis, who was considered the front-runner for her role as maid Aibileen Clark in The Help, graciously kissed the actress on the cheek as Streep went up to accept her award for her portrayal of Margaret Thatcher in The Iron Lady.
"When they called my name I had this feeling I could hear half of America going, 'Ah, no … Why her, again?' But, whatever," Streep said. This was only her third win even though she's been nominated a record 17 times. Perhaps Hollywood wasn't prepared for what Davis might say if she won. Throughout the awards season, Davis has been outspoken about the lack of roles for women of color. 
As expected, Octavia Spencer won the Best Supporting Actress award for her stellar performance as strong-willed maid Minny Jackson in The Help. Black-and-white silent film The Artist won Best Picture, and Jean Dujardin won the Best Actor award for his role in the film. Christopher Plummer, 82, who was named Best Supporting Actor for his role in Beginners, became the oldest actor to win the award.
Host Billy Crystal stuck to the usual script, opening the show with a humorous montage and musical number that has been his trademark when he's hosted eight previous times. It left some wondering what Eddie Murphy would have done if he hadn't bowed out over the Brett Ratner fiasco.
G/O Media may get a commission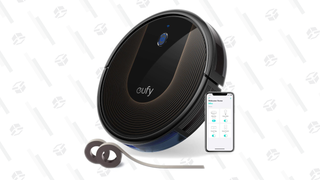 48% Off
Eufy BoostIQ RoboVac
Here are the night's most memorable moments:
Spencer received the night's first standing ovation, which shows that a win by black artists can still bring Hollywood to its feet. A tearful Spencer, who was a bit more composed when she won a Golden Globe, spent most of her speech thanking her family and colleagues from The Help. She was even grateful for presenter Christian Bale. "Thank you, Academy, for putting me with the hottest guy in the room," she said.
Most Memorable Joke
Spencer's win inspired Crystal to quip, "That moment for Octavia is what the Oscars is all about. I love that movie a lot … When I came out of The Help I wanted to hug the first black woman that I saw, which from Beverly Hills is a 45-minute drive."
The Second Most Memorable Joke
While doing a skit in which he guessed what actors were thinking, Crystal said this when the camera landed on Davis: "I want thank my agent, I want to thank my writer and director for creating the role of a strong black woman that wasn't played by Tyler Perry."
Best Presenter: Chris Rock
The comedian killed while presenting the award for Best Animated Feature Film. "I love animation," he said. "I love animation because in the world of animation, you can be anything you want to be. If you're a fat woman you can play a skinny princess. If you're a short, wimpy guy, you can play a tall gladiator. If you're a white man you can play an Arabian prince. And if you're a black man, you can play a donkey, or a zebra. You can't play white, my God!"
Rock also pointed out how easy it is to do voice-over work for animated films. "I hate when people go on TV and tell you how hard it is to do animation. UPS is hard work. Stripping wood is hard work. I've done some animation. It's the easiest job in the world. I go into a booth and I go, 'What's the line?' …  And then they give me a million dollars." Can Rock come back and host Oscars again, please?
 A Real-Life Friday Night Lights
Director T.J. Martin was one of the three winners for Best Documentary for Undefeated, which chronicles the story of an inner-city football team in Memphis football. But Martin, along with Daniel Lindsay and Richard Middlemas, got into a little hot water when he dropped an F-bomb during the show. "It wasn't the classiest thing," admitted Martin, who is the first black director to win an Oscar for a documentary feature, to the press backstage. "But it did come from the heart." Sean "Diddy" Combs was one of the film's many executive producers.
Oprah and James Earl Jones Get Honorary Oscars
Though honorary awards were handed out back in November, the audience was treated to a clip of Jones being given his award in London after his stage performance of Driving Miss Daisy. "I'm more than flabbergasted; what I've learned here in Britain, they say, 'I'm gobsmacked,' " Jones said. When it was announced last summer that Oprah was to receive the Jean Hersholt Humanitarian Award it generated some controversy because she's considered a TV personality rather than film. Oprah said winning the award "means all of us make a difference through the life that we live."
Correction: An earlier version of this article stated that T.J. Martin was the first black documentary filmmaker to win an Oscar. He is the first to win an Oscar for a documentary feature.
For a full list of winners, click here.
Genetta M. Adams is a frequent contributor to The Root.