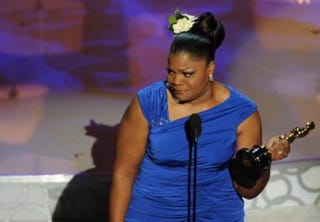 Maybe Morgan Freeman, Gabourey Sidibe and Lee Daniels got robbed of top honors at the 82nd Academy Awards, but Mo'Nique was a winner on Oscar night. Among the highlights:
*Mo'Nique wins best supporting actress for her performance in "Precious," and gives props to Hattie McDaniel, the first black actress to win an Oscar, in her acceptance speech.

*"Music by Prudence" wins for best short documentary, and Elinor Burkett pulls "a Kanye" on Roger Ross Williams during the acceptance speech.

*Geoffrey Fletcher wins for best adapted screenplay for "Precious," leaving him visibly moved.
*Morgan Freeman loses to Jeff Bridges for best actor.
*Gabourey Sidibe loses to Sandra Bullock for best actress, but not before being lauded by Oprah.
*"Precious" director Lee Daniels loses to 'The Hurt Locker" director Kathryn Bigelow for top honors in their category.
*"Precious" loses to "The Hurt Locker" for best picture, and Anthony Mackie takes the stage in triumph with his co-stars Jeremy Renner and Brian Geraghty, Bigelow, and the rest of the crew. 
Find a full list of the winners on Oscars.com.
If you missed our live Tweets during the Oscars, see the feed at @TheRoot247.