The Obamas
Conducting the show's first interview with a sitting president and first lady: impressive. Doing it just hours after Obama's press conference releasing his long-form birth certificate, and days before his announcement that American forces had killed Osama bin Laden: even better. Our favorite quote came from Michelle: "I always told the voters, the question is not whether Barack Obama is ready to be president. The question is whether we're ready."
Captions by Jenée Desmond-Harris
Nelson Mandela
Oprah called the anti-apartheid activist and first democratically elected president of South Africa "the most humble person I've ever met." She says he asked producers before his appearance, "What is the subject of today's show?" (Answer: "You.") Mandela told her that his success in helping to end apartheid was "the result of domination of the brain over the blood." All 300 Harpo staffers left their offices to shake the historic figure's hand as he left the studio, lining what's now been dubbed Harpo's "Mandela hall."
Jay-Z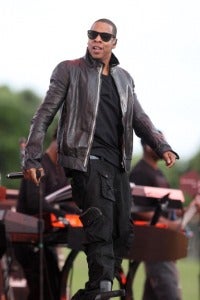 In Jay-Z's 2009 appearance on the show, he and Oprah debated the use of the n-word in music (guess who was on which side?) and ultimately agreed to disagree. Later, in 2011, after reading the rapper, artist and mogul's book, Decoded, she said "I get it now." In the book, Jay-Z wrote, "Rappers are young black men telling stories that the police, among others, don't want to hear." Oprah later said, "I realized I was among 'the others.' "
Whitney Houston
Oprah called the 2009 discussion of Houston's private struggles hidden from public view "the most powerful interview" she'd ever done. And with good reason — Houston's first interview in seven years covered an R&B album's worth of emotional territory. The music icon discussed her drug use, her decision to divorce Bobby Brown, the erratic behavior she displayed on their reality-TV show and her hopes for the future.
Dave Chappelle
Fans were dying to know why, a year after signing a two-year, $50 million contract for his Comedy Central show, Chappelle abruptly walked off the set and disappeared to South Africa. Who better to explain yourself to than the Queen of Talk? In a heavy discussion of show business, race and social responsibility ("I don't want black people to be disappointed in me," he said), the comedian still managed to infuse some humor: "I was only gone for two weeks! They made it sound like it was so mysterious."
Magic Johnson
Fifteen years after being diagnosed with HIV in the early 1990s, Johnson talked to Oprah about how he stayed positive and survived. "You have to really be good with you living with your diagnosis or your illness," he says. "I never felt like I was defeated and that I was going to give up and that it's over. I think that's why I've been living with HIV so long. I've always said, 'OK, I'm going to do all the things I have to do, and I know I'm going to be here for a long time.' "
Chris Rock
Emmy-winning comedian Rock has appeared on The Oprah Winfrey Show 26 times, cracking her up with socially insightful jokes about even the most taboo topics. Promoting his film Good Hair, he teased Oprah about hers ("Oh, that lucky Stedman!"). Most recently, he explained why the Tea Party might represent the end of racism: "Kids always act up the most before they go to sleep. And when I see the Tea Party and all this stuff, it actually feels like racism's almost over. Because … this is the act-up before the sleep."
Forsyth County
For one of the show's earliest episodes, Oprah and her crew traveled to Forsyth County, Ga., a place that was infamous for its intense racism and hadn't had a single black resident for 75 years. Several residents in the audience expressed unabashed racism, but one woman spoke out. "I just hate to think that someone is going to get hurt before the people get … it like it's supposed to be … black and white together in Forsyth County," she said. During the final season, Oprah's producers went back to Forsyth and discovered some remarkable changes.
Will and Jada
Will Smith graced The Oprah Winfrey Show stage 15 times before her final season, and he and wife Jada Pinkett Smith are among the all-time favorite guests lined up for the finale episode. Will's entertaining by himself (to promote Hitch in 2005, he helped a few single guys score dates), but it's even better with the whole family. In 2010, he and Jada explained how they let kids Trey, Willow and Jaden "define their own greatness."
Tiger Woods
Squeaky-clean, 26-year-old golf superstar Woods first appeared on Oprah in 1997, just a year after emerging on the professional golf scene and long before his divorce and public scandal. When Oprah introduced him, she raved, "He is just what our world needs right now … I call him America's son." 
He famously declared in that interview that it bothered him when people described him as African American, and had coined the term ''Cablinasian'' to describe his black, Indian, Asian and Caucasian heritage.
Michael Jackson
It was the most watched interview in television history. In 1993, before an audience of 9 million, Oprah sat down with Jackson at Neverland Ranch for his first interview in 14 years. He explained his skin disorder, vitiligo; why he felt he'd missed out on a normal childhood; and his fear of his father. "It was the most exciting interview I had ever done," Oprah said. It probably didn't hurt that she got a private lesson on how to do the moonwalk.
Katherine Jackson
When Oprah talked to Michael Jackson in 1993, he told her, "My mother's wonderful. To me, she's perfection." Oprah got to interview the matriarch of the Jackson clan after her son's death. From Hayvenhurst, the family's Encino, Calif., estate, they covered heart-wrenching topics like Katherine's grief over Michael's death, and his struggles with painkillers and plastic surgery. Michael's kids, Prince, Paris and Blanket, joined in, talking about their favorite memories of "the best dad in the world."
Tina Turner
Turner's made plenty of appearances on Oprah, often surprising viewers and making their "wildest dreams" come true. In January 2004, Oprah was the one living out a fantasy when Turner made a surprise appearance on her 50th-birthday-bash show. Reflecting later on the DVD for her 20th anniversary, Oprah said it was while dancing onstage with the superstar (complete with a Tina-inspired wig) that she began to understand how to just "enjoy the moment."
Little Rock Nine
In 1996 Oprah spoke with the Little Rock Nine, men and women who, as teenagers, were sent to integrate Little Rock Central High School in Arkansas. They recalled their first day of school, when they were faced with threatening white students and even the National Guard, who blocked their entrance. Three white former classmates also spoke out that day to say they regretted their opposition to integration. One former student, Ann, said she was raised by racist parents but had broken that chain of racism with her own family.
Halle Berry
In her more than 20 Oprah visits, Berry has discussed everything from motherhood to racism. She even unveiled her baby bump for the world to see. After becoming the first African-American woman to win an Oscar for best actress, she joined Penélope Cruz to talk about success, the joys of acting and her favorite places on earth. And, of course, that tear-jerking acceptance speech. "I didn't write a speech — I really didn't think I was going to go up there," she said.
Denzel Washington
It's no wonder that Washington is one of Oprah's favorite guests. He's an Academy Award winner, director, author and arguably the most popular black actor of his generation. Once, she surprised him on air with a tribute by his football-player son and a visit from the former teacher. A huge advocate of mentoring, he inspired Oprah to get involved with the Boys & Girls Clubs of America after one of his appearances, and she opened a club down the road from where she lived as a child.
Tyler Perry
Do you like Madea? You can thank Oprah. "Had I not seen that show where you said it was cathartic to actually write things down, I would not have started writing," Perry told her in 2001. In his most somber appearance, he revealed the abuse and molestation he suffered as a child. Two hundred male sexual-abuse survivors in the audience held up childhood photos of themselves at the age their abuse began, in a show of solidarity and an effort to raise awareness.
Patti LaBelle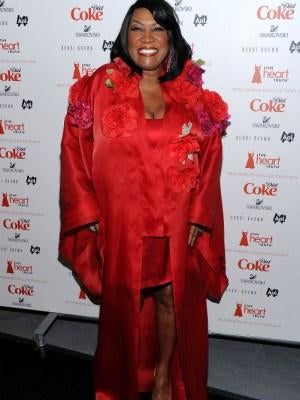 Legendary singer and songwriter LaBelle has appeared on the show more than 20 times since her first visit in 1991. In 2005 she made a tear-jerking tribute to the late Luther Vandross. In a lighter moment in 2008 she joined a man who called himself the "the biggest Patti LaBelle fan ever" in a Valentine's Day serenade of his wife.
Jamie Foxx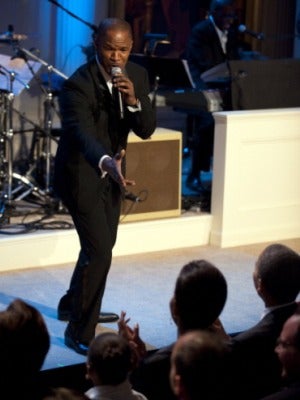 Foxx is another of Oprah's favorites, but one show made fans take speculation about the mutual admiration he and Winfrey share to another level: In 2005 Jamie refused to play down gossip that the pair were dating, even when Oprah urged him to put an end to the rumor that she was leaving boyfriend Stedman Graham for him. "When I was on In Living Color," he said, "I would always tell Keenen [Wayans], 'Oprah, that's my flavor,' because … I'm from the South and I like it thick."
Terry McMillan
In 2005 best-selling author McMillan confronted ex-husband Jonathan Plummer — the inspiration for her How Stella Got Her Groove Back — to discuss the six-year marriage that ended when he revealed that he was gay. Oprah asked them about the details of the split and the extent to which they could remain friends ("We're not gonna be kickin' it," McMillan said). In 2010 she returned to discuss her new book, Getting to Happy, a Waiting to Exhale sequel inspired by that breakup.
Maya Angelou
Oprah calls author Angelou her "mentor-mother-sister-friend," and says she's felt deeply connected to her since reading I Know Why the Caged Bird Sings, explaining, "For the first time, as a young black girl, my experience was validated." She's repeated Angelou's insights throughout the years (a favorite: "The first time someone shows you who they are, believe them."). In one of their final on-air chats, the duo reflected upon Angelou's words of wisdom about how to do the impossible.
Mike Tyson
In May 2009, legendary heavyweight-boxing champion Tyson's 4-year-old daughter, Exodus, was killed in a tragic household accident. That year, Tyson opened up to Oprah about what he called his "darkest day" and explained why he didn't want to know the details of the circumstances surrounding her death. "If somebody gets blamed for it," he told her, "there's gonna be a problem."
Michael Jordan
After a retirement, a comeback and yet another retirement, Jordan talked to Oprah in 2005 about what it was like to finally settle into a "normal" life. He discussed coaching his teenage kids in basketball, his new passion for motorcycling and his legacy, telling Oprah, "It gives me great pride that what I've done has … risen my name, as well as my personality, to a certain good standard."
Josh Solomon
In 1995 Oprah interviewed Solomon after he changed his skin from white to black and lived as a young black man for a week. He told the audience he was refused service in a restaurant, needlessly questioned by a police officer and treated with suspicion in the street. He concluded that "white people get this respect, and black people are constantly trying to prove that they deserve it or are worthy of it."
Rodney King Riots
In the summer of 1992, after the brutal beating of Rodney King was captured on tape, racial tensions in Los Angeles came to a head. When the white police officers were acquitted, riots erupted across the city. The Oprah Winfrey Show arrived in Los Angeles six days later to film a show with an audience of locals, who spoke candidly about the riots and the racial tensions in the city.