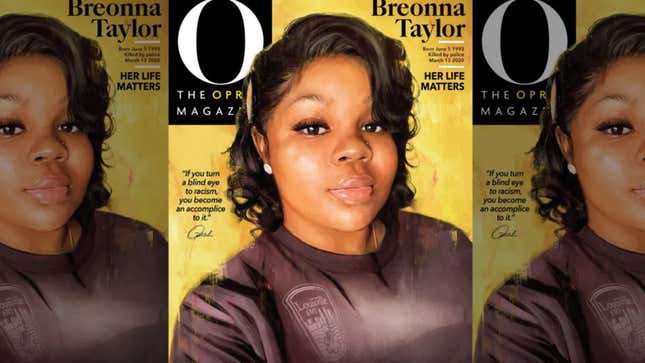 For the past 20 years, the cover of O, The Oprah Magazine has served as a glossy, aspirational testimonial to the powers of manifestation: reading lists and reviews, career hacks, advice dispelled by all manner of gurus and girlbosses. And always, there was Oprah herself: beaming, often stately, always joyous. Until now.
Small Town Horror Story: The Mississippi Burning of Three Anti-Segregationists
Oprah Winfrey announced Thursday morning that, for the first time in her publication's history, someone other than herself will be featured on the magazine: Breonna Taylor.

"Breonna Taylor. She was just like you. And like everyone who dies unexpectedly, she had plans," Winfrey said in a statement announcing the cover on Twitter.
Taylor died in her Louisville, Ky., home in the early hours of March 13, after narcotics officers serving a no-knock warrant stormed through her door. The officers shot up the house, injuring her boyfriend, Kenneth Walker, and killing Taylor, who had been asleep in her room when the police arrived.
In her monthly "What I know for sure," letter, which leads every issue, Winfrey spoke to Taylor's mother, Tamika Palmer, who told Winfrey, "I still can't grasp the concept of her being gone. It feels so surreal. I'm still waiting for her to come through the door."

Winfrey, leaning on the memories shared by Palmer, homed in on the life and aspirations of the 26-year-old emergency medical technician, writing a brief, vivid portrait of the short, yet joyful life Taylor lived.

Breonna Taylor loved cars and treated her 2019 Dodge Charger like a trusted friend. Breonna Taylor loved chicken any way you could cook it. Breonna Taylor put hot sauce on everything, especially eggs. Breonna Taylor appreciated every kind of music and the dances that went along. Breonna Taylor treated all her friends like besties. Breonna Taylor was a force in the life of her 20-year-old sister. Breonna Taylor felt meaning and purpose in her work as an emergency room technician. Breonna Taylor was saving to buy a house. Breonna Taylor had plans. Breonna Taylor had dreams. They all died with her the night five bullets shattered her body and her future.
"What I know for sure: We can't be silent," Winfrey concluded. "We have to use whatever megaphone we have to cry for justice."

September issues are widely accepted as the most prestigious of all the monthly glossies. Notably, Winfrey also made the decision to place Taylor on the cover as the magazine phases out its print version (it will switch to all-digital in 2021).

The simple cover, containing little text, uses an image of Taylor that's familiar to many. But 24-year-old self-taught digital artist Alexis Franklin breathed new life into the picture by converting it into a digital portrait. In an interview outlining her process, Franklin admitted she had begun to guard herself against news of brutal, unjust police killings of Black people after the deaths of Alton Sterling and Philando Castille in 2016.

"But when Breonna Taylor was killed, I couldn't even try to shut it out," said Franklin. "I was uncontrollably angry and hurt. This time there was no shoving it down."

For months, there was hardly any coverage of Taylor's killing. That changed in May when Taylor's family hired prominent civil rights attorney Ben Crump to represent them. Still, of all the officers involved in her killing, only one—Brett Hankison, who has also been accused of sexual assault and planting evidence—was dismissed from the Louisville Metro Police Department. No one has been charged in her killing and the LMPD remains fully funded.
---
Join the discussion! The Root is hosting its first-ever, virtual Root Institute, presented by Target, featuring several of the leading minds in our community talking about politics, culture, health, community building and social impact. Subscribe for updates today!