OWN set up a pink carpet, as opposed to red, for the premiere of the network's newest show, Love Is ___, on Monday. It's a romantic dramedy that stars Will Catlett (Black Lightning) and Michele Weaver as Yasir and Nuri respectively, characters based on power couple Salim Akil and Mara Brock Akil.
I'm obsessed with the show. It's giving you everything from that meme that says, "If the love doesn't feel like '90s R&B, I don't want it."
Love Is ____ feels like a '90s R&B song. In fact, the series is sonically saturated with some of your fave '90s songs (let's be real—they're all faves), like Maxwell's "Whenever Wherever Whatever," Lauryn Hill's "Ex-Factor" and Brownstone's "If You Love Me." Oprah and Mara even curated a playlist of their favorite '90s love songs. 
It's no wonder that Oprah gave the show's creators, Salim and Mara, a resounding "Yes!" when they pitched it to her network, OWN. And it's also no wonder why Muva (I'm talking about Oprah) graced us with her presence on the pink carpet. This is a show worth seeing, and we all know that when Oprah endorses it, it's good. [Editor's note: The Root was invited by OWN to fly to Los Angeles to interview Salim and Mara Brock Akil and the stars of Love Is ___, as well as to attend the Hollywood premiere. Oooh, fancy! This opportunity also gave us a moment with Oprah. Yasss!]
It was as if the powers that be at OWN heard my inner thoughts. While all the other news outlets were screaming for Oprah's attention, two of Oprah's OWN publicists approached me and the black female journalists from Variety, Vibe, and Shadow and Act and prepped us: "We're going to bring Ms. Winfrey over." I have no idea what either one of the publicists said after that because Muva was coming.
G/O Media may get a commission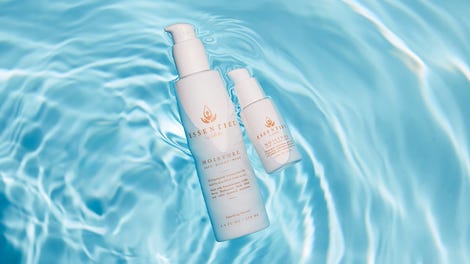 20% off
Essentiel by Adele
It's story time. I promise you, it's gonna be real quick: Just about a week ago, Oprah tweeted me about another show on OWN, Queen Sugar. It was completely random, even though she always randomly tweets people about the show. Although I watch it, I don't tweet about the show, so her tweet shocked me. Then she followed me. Wait, what? Yes, ya girl is one of the 292 people Oprah follows on Twitter. Oprah's watching me, y'all. I promise not to forget where I came from.
Oprah finally approached the group of black female journalists (honestly, the carpet was filled with us, and it felt intentional because if you know anything about red carpets, you know black folks are usually grouped together). Minus one white guy from the Hollywood Reporter and a couple of photographers, the pink carpet was Wakanda forever.

As she made her way over, Oprah said, "Hey, Danielle!" I lost it internally and a little bit externally. She laughed and continued, telling me that she'd been meaning to follow me. You guys—I earned that moment. Shoutout to the other black female journalists who made the space for that moment to happen and who also worked together in a beautiful dance of conversation for all of us to get a moment with Oprah.
---
When a show is all about love, you get a chance to ask Oprah about love. So we did. I asked Oprah about the abundance of love in her life, and which one of them is her favorite to experience.

She smiled and said, "My favorite way love shows up in my life is when other people get it. Nothing makes me happier than when I'm in the middle of a conversation and someone says, 'Oh, I never thought of it that way before,' or 'Oh, I didn't know that,' or 'Oh, OK, I'm seeing it differently now.' That's what I'm here to do, and I know that.
"To me, my greatest joy is making other people feel joyful. That's what feeds me. I got it down!" she added. And then she proceeded to give us a playful and joyful little dance. She continued, "Also, that moment when something happens that's really meaningful and you see the shift, you see the 'Oh, I won't do that again, or I get that.' That's love for me."
This woman is so selfless that the love she prefers is seeing someone else have a moment of clarity, understanding or enlightenment. Oprah just wants us all to be as amazing as she is.

The young woman from Variety asked Oprah whether Love Is ___ will give us what we're missing in black love stories. Then Muva spoke:

The thing that's missing from black love stories that I've seen, other than Queen Sugar, of course ... is what we started about two years ago with Queen Sugar. The reason people love it so much is a sense of intimacy. So when Mara walked in with this story about her courtship with Salim, before she even finished the pitch, I said, "Yes, I'm in," because of the levels of complexity.

It's not all just some sweet beginning and ending, but you learn to be upset and learn to be angry, and learn what it means to gain trust in someone becaue that's what's real; and learn what it means to be disappointed, angry without having to cuss somebody out, and then finding a way back to each other, and building trust so you can have a really strong relationship based on real intimacy, not just sex—although, my God, in [episode] 107, there's a sex scene that if you don't have somebody, you're gonna want somebody that day: 107, honey; hush! I called Mara and said, "Stop it now!"

When they finally get together, it's like, ay yi yi! I think the intimacy, the tenderness, the true affection, the real trust and, most importantly, wanting you to be the best you can. I want you to be the best you can; that's what real love is. I want you the best for you, no matter what. That's what love is and why I'm so excited. People get to see it in a way that literally, they will recognize themselves.
And finally, Vibe asked a question that I was jealous of. Its reporter asked Oprah about the lessons in heartbreak. And Oprah was extremely candid, even sharing a story about crying over a man in her 20s.

Oprah said: "Every heartache is there to teach you something about yourself. I have so many girls [I talk to] ... I was just telling one of them the other day, 'The person that you are upset with because you think they're the ones that caused this pain for you, they're your biggest teacher.'"
The reporter responded to Oprah, saying that doesn't feel good, and Ms. Winfrey said:
It doesn't feel good in the moment, but in the future, it's the thing that's gonna light you up so you not only get—you get to stay lit. [Everyone laughed.] When you look at it, the deeper the heartache, the more you need to learn. I had some terrible stuff in my 20s. I look back; I was really in the—when I was moving all of my stuff from Chicago to California, I ran across some old letters that I'd written to him—woooo—shame, shame, girl. I'm so glad I didn't send them.
She paused and then continued as if she'd realized something:
I actually shed tears for the woman I used to be. How sad was I in my ... "Please, you don't understand!" [phase]. What I now know is that was my biggest teacher. He was here to show me to myself so I could learn to love myself. This was the guy who said to me, "The problem with you is, you think you're special." And I'm like, "No, I'm not! I'm not special. I'm really not." Look at me now!
We all screamed at Oprah's ultimate payback to the man who broke her heart back in the day. As Beyoncé says, "Always stay gracious. Best revenge is your paper." I bet homeboy is gagging now and has gagged every day since Oprah became Midas in black-woman form.
But isn't that also what ... Love Is ... ?