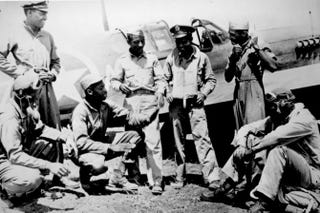 A legend in his own right, one of the last remaining flight instructors who trained the renowned Tuskegee Airmen to fly combat planes in World War II has passed away in Georgia at the age of 96, the Associated Press reports. 
Milton Pitts Crenchaw died Tuesday at Piedmont Henry Hospital after succumbing to cardiovascular disease and pneumonia, his daughter Dolores Singleton told AP. 
"He began that whole flying experiment—I really think that's what it was because they didn't think it was going to work," Singleton said. "For a black man to be able to fly, that's just like an astronaut now," she said.
Singleton said her father, a Little Rock, Ark., native, was one of the last surviving instructors from the famous group made up of the first African-American military pilots. He became a pilot while studying at the Tuskegee Institute in eastern Alabama and ended up training hundreds of pilots in the 1940s at that same institution. 
"Crenchaw became a primary civilian flight instructor and eventually one of the two original supervising squadron commanders under Chief Pilot Charles A. Anderson," a bigoraphy by the Butler Center for Arkansas Studies reads, according to AP. "He and Charles Foxx were the first instructors for the first group of student pilot trainees between 1941 and 1946."
The influential airman later helped establish an aviation program at Philander Smith College in his hometown. Crenchaw was also honored by introducing the 2012 film Red Tails at a Little Rock theater, his daughter said, giving viewers a first-person account of the history they were about to witness. 
"He loved people and he loved the United States of America," Singleton told AP.
Read more at the Huffington Post.