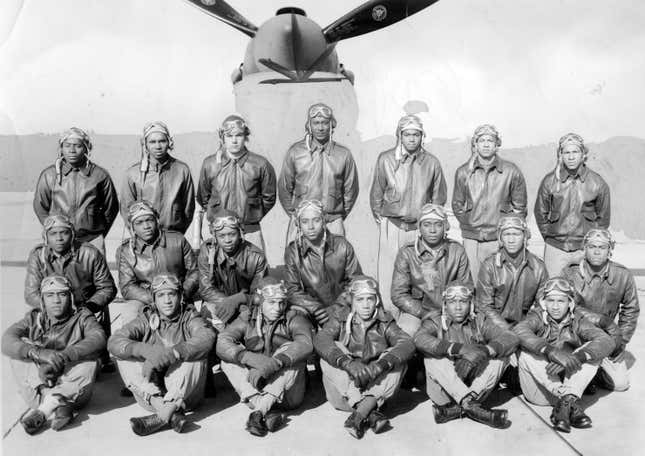 On July 26, 1948, President Truman changed the course of American history when he issued Executive Order 9981 officially declaring "there shall be equality of treatment and opportunity for all persons in the armed services without regard to race, color, religion or national origin." This order desegregated the United States military.

A Nothing Burger?: The Biden Impeachment & The Power of the Black Vote | The 411: Part 1
As we commemorate the 75th anniversary of that historic moment, when President Truman, in a moment of real political courage, desegregated our military, we should remember that history may have been on Truman's side but public opinion at the time was not. In fact, a 1948 poll showed that only about 26 percent of the American people supported Truman's decision and he was loudly criticized for using our armed services as a "social experiment." If that sounds familiar, that's because a MAGA Republican tried to use the same language to defend his legislation disallowing any racial education training in the Department of Defense. We literally have Republicans using the same language of resistance to integration today.
The military hasn't been race-neutral, and history will tell the story. We should remember the countless Black soldiers who had just returned home from the battlefields of World War II and, instead of the grateful nation that embraced our white veterans, found a home of violent subjugation—where Jim Crow still reigned supreme and where they were too often treated as uniformed monkeys instead of the heroes of the great crusade they were. They'd fought to free the world but they weren't free themselves.
That was the America that awaited Sergeant Isaac Woodard, Jr., a decorated World War II veteran, as he rode the Greyhound home in 1946 to Winnsboro, S.C. after serving four long years in the Pacific theater. It had been a long drive, and Woodard asked the bus driver to pull into a rest stop for a bathroom break. The driver refused and, after a brief argument, he eventually stopped in Batesburg, S.C. where Batesburg Police Chief Lynwood Shull and his officers were waiting.
It didn't matter that Sergeant Woodard was a veteran. It didn't matter that he'd just served his country faithfully for four years. It didn't even matter that he was in his uniform. The driver ordered Woodward off the bus and Chief Shull and his officers took him into an alleyway where they beat him mercilessly, blinded him and arrested him for disorderly conduct. 
Two years later, President Truman signed Executive Order 9981 with much resistance. Despite that, the military became fully integrated by the end of the Korean War.
My father grew up in the same South that blinded Sergeant Woodard. Raised in that dusty countryside, he grew up with neither prospects or indoor plumbing. He picked cotton, sweating in that relentless sun as he broke his back and cut his hands on the boll, and was forced to attend an integrated school. I say "forced" because, like many young men of his generation, he was raised to "stay in his place or else" and he saw only the risk and danger of an integrated classroom and none of the reward.

After graduating high school, he went on to enlist in the United States Army and serve his country because he believed in it; because he's a patriot and because like a lot of Black men his age, it was the only opportunity available to him. It was his only opportunity to provide.

So maybe that's why I get so angry when I hear MAGA Republicans bring back the old argument they used against Truman: that by desegregating our armed forces, our nation's 33rd president was using the military as a social experiment. Maybe that's why my blood boils when I see folks like Sen. Tommy Tuberville defend white nationalists as "patriots" while single-handedly threatening our national security by blocking hundreds of military nominations and promotions.

Maybe that's why I scream when I see GOP leaders try to drape themselves in the flag and the sacrifice of our soldiers, sailors, airmen, guardsmen and marines after they did everything they could to defeat President Biden's PACT Act. 
In this single piece of legislation, President Biden extended healthcare benefits for millions of veterans exposed to toxic burn pits, required the VA to provide a toxic exposure screening to every veteran enrolled in VA health care and improved research, education and treatment related to toxic exposures including radiation and chemicals like Agent Orange. 
These right-wing Republicans don't get to pretend that they support our military. They don't get to puff out their chests, talk about national security and profess the love and respect they hold for every man and woman who wears a uniform. They don't get to pretend they care about our veterans and their families because, when President Biden stood up for them, they voted "No". 
These MAGA wannabes don't get to pretend that they're patriots. My father is a patriot. Sergeant Issac Woodard, Jr. was a patriot. President Harry Truman and President Joe Biden are patriots. 
They don't even come close.